10 Christmas Movies to Watch during the Break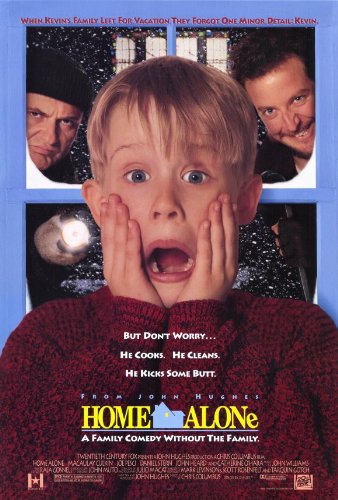 It's that time of the year again where it's a tradition for people around the world to celebrate Christmas. To get in the Christmas spirit, one of the things to do is to drink hot chocolate and watch Christmas movies in a comfortable environment. Here are some of the best Christmas movies to keep in you in the holiday spirit.
10.  Home Alone- 8-year-old, Kevin McCallister is forgotten by his family when they go out to Paris and McCallister is forced to battle a couple of thieves, Harry and Marv around Christmas in this enduring children's adventure from director Chris Columbus and writer John Hughes.
9.  The Nightmare Before Christmas- Jack Skellington, Halloweentown's pumpkin king, has become bored with the same annual routine of frightening people in the "real world." When Jack accidentally stumbles across Christmastown, he plots to bring Christmas under his control by kidnapping Santa Claus and taking over the role. But Jack soon discovers even the best-laid plans of mice and skeleton men can go seriously awry.
8.  Elf- Buddy The Elf was accidentally transported to the North Pole as a toddler and raised to adulthood among Santa's elves. Buddy then travels to New York in search of his real father. It then leads to chaotic results between the two and it's a fun enjoyable movie for everyone.
7.  The Polar Express- When a doubting young boy takes an extraordinary train ride to the North Pole, he embarks on a journey of self-discovery that shows him that the wonder of life never fades for those who believe.
6.  A Charlie Brown Christmas- When Charlie Brown complains about the materialism that he sees amongst everyone during the Christmas season. He attempts to restore the proper spirit with a forlorn little fir Christmas tree but when it fails, he learns what the real meaning of Christmas is.
5.  National Lampoon's Christmas Vacation- Clark Griswold wants to have a perfect family Christmas, he tries to make sure everything is in line, including the tree and house decorations. However, things go wrong quickly. His cousin, Eddie and his family show up unplanned and start living in their camper on the Griswold property.
4.  Home Alone 2: Lost in New York- Just as good as the first one, Kevin McCallister loses track of his father at the airport, he mistakenly gets on a plane headed for New York City while the rest of the McCallisters fly to Florida. Now alone, Kevin discovers that the thieves, Harry and Marv are on the loose, so he tries to stop them from robbing an elderly man's toy store just before Christmas.
3.  How the Grinch Stole Christmas- The Grinch decides to ruin Christmas for the cheery citizens of Whoville. Joined by his dog, Max, the Grinch comes down from his mountaintop home and sneaks into town to swipe everything holiday related from the Whos. However, the Grinch encounters "Cindy Lou Who" who makes him find the spirit of Christmas
2.  A Christmas Carol- Though London awaits the joyful arrival of Christmas, Ebenezer Scrooge thinks it is atrocious and wishes it was gone. Later, Scrooge encounters the ghost of his dead business partner, who warns that three spirits will visit him this night. The ghosts take Scrooge on a journey through his past, present and future in the hope of transforming his bitterness.
1:  The Muppet Christmas Carol- The Muppets perform the holiday tale, with Kermit the Frog playing Bob Cratchit, the put-upon clerk of Ebenezer Scrooge. Loved characters such as Miss Piggy, Gonzo, Fozzie Bear and Sam the Eagle are in and out of the story, while Scrooge receives visits from spirits of three Christmases past, present and future. They show him the error of his ways, but the old man seems to be past any hope of happiness.
All of these movies can be watched on streaming services such as "Netflix, Disney+", or rented at "Amazon Prime Video" for only $3.99.