Make Art Your Safe Space: Artists for Healing Club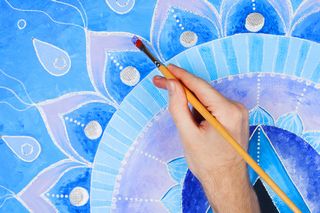 Students and staff start to feel the impending dread of two hour long exams as finals week looms around the corner. This marks the time in which students from all grade levels begin their yearly traditions of stocking up on energy drinks and endless amounts of coffee, while others save up in order to attend their much needed brain boost, the power reviews, hosted by members of the teacher body. During this stressful time of the year, many students find themselves needing a moment where they could let their frustrations and anxieties disappear from their lives, even if it is just for a couple of hours. The Artists for Healing Club provides that outlet, and freshman Uma Kamath, president of the club, believes that the organization's events and activities could give back a great amount of relief to the student community during these demanding times.
"I wanted to create a space where people can just come in and make artwork," said Kamath. "We want to relieve the stress students have by getting them together and creating meaningful pieces."
Kamath states that at first, her intentions for the club were focused primarily on giving back to the Katy community. Ideas such as visiting local hospitals and retirement homes and making artwork with the people there were among the few that she believed would create joyful and unique experiences for the students. Not only that, but spending time with the elderly and the patients aids both groups in keeping positive outlooks. However, because this is the club's first year, a lot is needed to be sorted out before it can plan bigger opportunities.
"For now, we just want to focus on utilizing our talents in art to connect with the people around us," said Kamath.
Because it is new, the Artists for Healing Club has spent most of its meetings this year brainstorming on what art-related events it can organize for the school. Sometimes, mini art projects that club members can work on are conducted at the meetings, furthering the stress-relieving aspect of the club. Sophomore Maya Shaffer, the event planning officer of the club, shares that the environment and activities that the club offers can really be therapeutic to students who feel relief by unleashing their creativity. In fact, Shaffer's primary reason for joining the club is due to her interest in pursuing a career related to art therapy. The club held their first student-attended event on Dec. 10, a Bob Ross inspired painting workshop. There, students were kept busy with snacks as they attempted to follow along to a Bob Ross painting tutorial, or, if chosen, students could simply relax and paint to their heart's content.
"The goal of the Bob Ross event was to give students something calming to do during the end of the semester, a period in school that is known to be extremely stressful," said Shaffer. "Hopefully, we left an impact on students and inspired them to use art for stress relief and connect more with their creative side."
The Artists for Healing Club holds meetings on Tuesdays of every week, and is sponsored by Mrs. Nguyen. If interested in becoming a member, join the remind code by texting @arthealing to 81010. The officers are currently planning visits to hospitals and retirement homes for later on in the year.
"The club is meant to be fun for everyone involved, whether that is members, students, or other people we could work with, the main goal is to have a good time," said Shaffer. "I would like students to see that art can be emotionally healing and gratifying, especially when you take it less seriously and do it purely for your enjoyment."