Fort Bend County Fair Art Auction Winners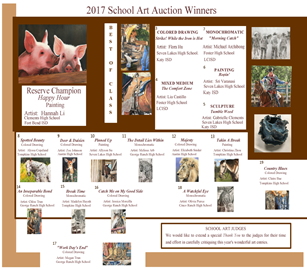 Four of our talented artists had their art auctioned at the Fort Bend County Fair, and received cash winnings. Be sure to congratulate these Falcons for their hard work.
Freshman Alyssa Copeland won  $ 1,900.00.
Senior Christina Zhou won $1,500.00.
Sophomore Madelyn Huynh won $ 1,300.00.
Senior Claire Bai won $ 2,000.00.