Hidden Figures Takes Over Theatres
WARNING: THE FOLLOWING POST MAY CONTAIN SPOILERS.
Hidden Figures is a movie based on a true story of three African American women with jobs as 'computers' in N.A.S.A. that was released Dec. 25, 2016. It stars Taraji P. Henson (playing Katherine Johnson), Octavia Spencer (playing Dorothy Vaughn) and Janelle Monáe (playing Mary Jackson) and takes place primarily during the 1960s. It documents the hardships and triumphs of each of their lives, both personally and professionally. Within the professional environment, it highlights the racial issues women endured over trivial things like coffee pots and restrooms. In the personal environment, it creates openings for scenes including racial issues and discussion amongst characters about these events. The movie focuses on many different aspects of this decade such as the civil rights protests, segregation, Russia making it into space, and the overall racial concerns associated with this time period. In connection to these things, footage of President John F. Kennedy and Martin Luther King Jr. speaking is included throughout the movie.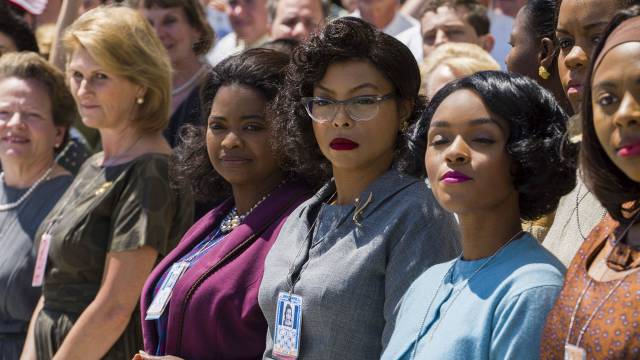 The ratings on this movie were phenomenal, with 93 percent on Rotten Tomatoes and 94 percent by Google users. The box office amount is over 2.9 million dollars, after having only been in theatres for less than three weeks. Despite including contentious racial debates and issues that still have relevance today, the creators did not include anything that would've lead to anyone being offended. They only mentioned what was timely with the story, including a continual undertone of racial prejudice throughout most of the movie. For example, in one scene Katherine Johnson is seen running frantically back to the building she was at in the beginning of the movie. The scene is set up to make it seem as though maybe she is overwhelmed with her new position, but it is revealed later in the movie that she was just running to where she knew a 'colored' restroom would be.
Another major event highlighted within the movie was the first African American woman to attend Hampton University, which at the time was an all white university. In the movie, Mary Jackson is seen petitioning the court to be able to become an engineer. At one point during the movie, another engineer asks if she would've become an engineer if she had been born a white male. She responds that if she was a white male, she already would be. This statement rings true throughout the movie that if they were all white women or men, their opportunities would be much different. This is first displayed at the beginning of the movie by Dorothy Vaughn when she applies to be a supervisor, but is pushed to the backburner because the 'computer' sector was not a priority.
Overall, Hidden Figures is one of the best movies I have seen in a long time. It delicately deals with touchy issues, while also including the pressures associated with being involved in the internationally viewed space program. The women who inspired this movie were highlighted well, and honored for their achievements at the end. The movie was well done and told a story that many didn't know, which further educates, motivates and inspires the viewers.