Conan Gray and UMI Perform at Revention Music Center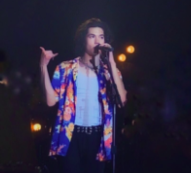 The crowd cheers as Conan Gray steps out, full of energy from backstage and greets hisfans at the Revention Music Center for his third concert in Houston, Texas. Fans brought signs and gifts to show their love for their favorite artist. The seats and the floor were filled with eager fans, excited to enjoy the night listening and singing to their favorite Conan Gray songs.
Conan Lee Gray, professionally known as Conan Gray began his career on social media.Gray made YouTube videos as a hobby, posting vlogs and acoustic covers before he realized he wanted to pursue a career in music. His debut EP, "Sunset Season" (2018), gained him recognition in his music and has gotten over 160 million streams online. Gray's Revention Music Center show in Houston, Texas was his first stop in his newly second tour.
The show began with LA based singer/songwriter, UMI. UMI creates lo-fi and R&B sounds in her music, different from Gray's dream and indie pop sounds. Despite the difference in music, UMI was not much of a stranger towards the fans at Gray's show. UMI opened with her song
"Breathe" and fans showed support as they sang along. While only performing a few songs, UMI interacted a lot with the audience. As her set ended, UMI gleefully introduced the next performer, causing a rush of screams and cheers from the crowd.
Conan Gray began his set with his single "The King," which was released in early 2019. Casually dressed, Gray wore a bright and colorful Hawaiian shirt along with an accessory of a choker. Gray jumped and ran across the stage, holding hands with fans as he performed his songs. Gray had no hard time in presenting lively stage presence as he danced along to his own songs, even if they weren't upbeat. Gray especially showcased his vocal skills when he performed his song, "Lookalike." His soft and high voice in the song created a peaceful atmosphere as fans swayed their heads side to side with their eyes closed, swamped in the sound of the music.
After waiting in line at the show for so long, I was most excited to hear Gray perform his recent single, "Maniac." The energy Gray manifested as he performed "Maniac" allowed fans to express the same back as the whole room jumped up and down in their places, yelling the lyrics to the song.
Before performing his last song, Gray spent the time talking and interacting with his fans. He began a rant about "talking to someone who takes forever to reply."
"I know that every single one of you guys still respond to their texts immediately, eventhough spend three days to respond. I also know you guys still double and triple text, and not get a response. I am not the only one," said Gray.
Gray's commentary on the matter caused a rush of laughter from the audience as they related to they agreed and related to the situation. He continued talking on stage, creating a comfortable atmosphere between him and his fans; making everyone feel as close as a friend to him.
The show was coming to an end and gray performed his last song, "Crush Culture." This song was the loudest song the fans sang along to, as the lyrics portrayed a fun and bitter thought of being single amongst couples. Fans laughed and sang in synchronization as they yelled out the chorus, "crush culture makes me want to spill my guts out." Gray smiled as he heard how loud the fans were singing along with him.
Conan Gray's show was a night to remember. His stage presence shows his confidence as an artist. It wasn't hard to tell Gray enjoys what he does by the way he performs on stage, dancing and having fun while he sings his songs. His love for his fans never fails to amaze me as he treats us like his own friends. Not only do fans love Gray's music, but his humble and bubbly personality is what makes Gray easy to love.