Journalism Wins at NSPA/JEA
Toting suitcases full of travel essentials, members of the Tompkins Journalism Department prepared to board a plane headed to Seattle, Wash. not only for their annual spring trip, but also for the chance to compete against other students at the NSPA/JEA Spring High National High School Journalism Convention. Two students, senior Alexis Garcia and junior Daniela Guevara, received awards for their yearbook theme design and photography at the convention, national awards that recognize their passion and dedication to journalism.
"Some members of the J-Crew, including myself, went to a Journalism Conference in Seattle where they were holding write off competitions in multiple categories. I designed a yearbook spread that was awarded a Superior rating, and what makes it cool is that it is a national Journalism Education Association (JEA) award, not just regional or state," said Garcia.
Garcia was required to design a division spread for a yearbook theme, which are the pages that introduce each section, using the theme and photos that had been provided by JEA. Her spread was turned in prior to the trip to Seattle, so that at the conference students could have the opportunity to provide constructive criticism to all of the submissions. Garcia worked hard to create a unique spread that would captivate those who viewed it, and because of her dedication, her spread did not go unnoticed.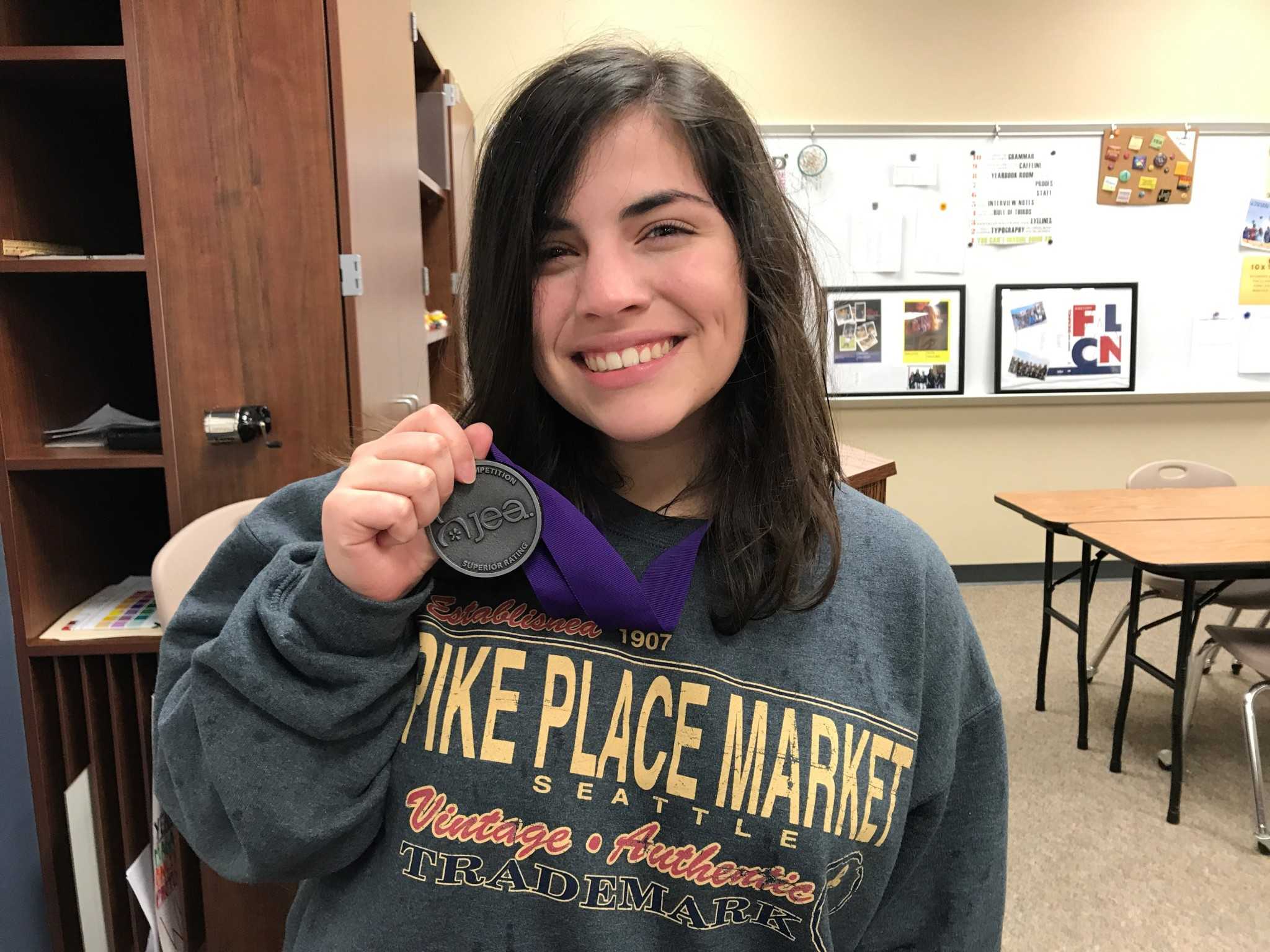 "I found out that I had won on the plane ride home. I was super excited and relieved because I had been so nervous beforehand, and I was just thankful to all those who had helped and inspired me when I was working on it," said Garcia.
In addition to Garcia's outstanding award, Guevara, a photographer for magazine/yearbook, was also notified that she had won a national award for the three photos she entered into the sports feature category of the convention. A self-taught photographer, Guevara enjoys the freedom that photography gives her to be creative, and her love for this aspect of journalism is evident in the intriguing photos she submitted to the competition.
"I had to present three pictures that captured athletes in their environment. Two of the pictures were of Tompkins football players at the Seven Lakes game and the other was of our freshman volleyball team," said Guevara.
Guevara's dedication to capturing the perfect photos proved to be in her favor for she was able to obtain a national title, and along with Garcia, make Tompkins proud. Both students were elated to hear that they had won at a national level, and the win only intensifies their desire to continue to engage in journalistic activities that highlight their unique creativity.
"I was shocked to win, because I'm not one that does competitions or wins anything, so I felt proud of myself. The award was a reminder to myself to keep taking photos and capturing special moments at school," said Guevara.