Alessia Cara Shines at Revention Music Center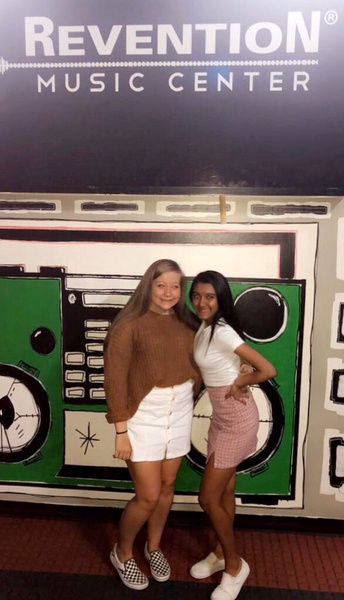 Through the dim lighting, Alessia Cara strolled over to a couch which was set up on stage along with a bed and other home furniture. She sat down and began to sing her hit song, "Growing Pains" on the stage of Revention Music Center on Nov. 20. Partially through the song, she got up and headed to the mic in the middle of the stage to introduce herself to the room full of cheering fans.
The Canadian singer-songwriter is also known as Alessia Caracciolo in a non-professional environment. The 23-year-old artist who started off on YouTube, began to produce acoustics, and later signed with Def Jam and EP Entertainment. Soon after, she released her single, "Here". Cara is now best known for her Alternative and R&B music to her millions of followers. Houston, TX was the last location of her most recent tour, "The Pains of Growing", named after her latest hit album.
The concert started with Ryland James, a pop artist appearing into the bright spotlight confronted by the audience's applause. Regardless of his beginner status in the industry, James was instantly accepted by the crowd as he gave a summary of what each song symbolized to him. The artist also gave the audience the privilege of listening to his unreleased song, "Better Off", to which the audience joined him by clapping along to the beat.
"It is about loving yourself, and I would say that everyone can use some self-love," said James.
Afterward, he continued singing his released songs while providing the story behind each piece. Soon it was evident that the artist was proud to be at the venue and each song of his was heartfelt and was relatable. The audience showed their support to each piece as they swayed side to side, taking in the moment of the rising artist. Finishing his sequence, James proceeded to thank the audience for having him.
"I am so happy to be accompanying Alessia, especially because this is my first U.S. tour, but sadly this is my last stop as well, before going home," said James.
Cara ran up on stage in the midst of the roaring crowd which was filled with people with bright eyes of anticipation of the upcoming show. The flash of the green lights matched the green ensemble she had on, illuminating the room with a green blaze. She started off with a portion of the first song from her album, "Growing Pains", and then moved on to the other songs that are also in her recent album.
As the night went on, Cara was very interactive with the audience members and even asked one of them to join her on stage to sing her song, "How Far I'll Go", from the movie Moana. Her cheerful personality was revealed through her high-spirited jumping and fake drumming with her band during an instrumental part of the song. Cara got many responses from her crowd including dancing, flashing lights, clapping and even some "I love you's".
Prior to a few songs on her set, Cara proceeded to explain the reason and meaning to each. Her songs explored concepts such as heartbreak and love. She emphasized how it may seem to every individual that they are alone in a situation at times, but that is not the case. The depth of her explanations made the intimacy between herself and her audience clear. The connection showed the honesty and relatability of Cara's life. Some of the lines she sang highlighted her sincerity while some displayed the most rock-bottom parts of her life. Nonetheless, all the lyrics highlighted her confidence and determination.
Towards the end of her set list, the young artist sang her most popular song, "Scars to Your Beautiful", which was dedicated to everybody that needed a little boost of confidence that night. The song conveys the message of looking past insecurities and looking at one's true beauty. Cara claimed that it was hard for her to do that at times too, especially with all the mental issues she has to deal with on a regular basis. The crowd quickly filled with chants and tears as they sang along with the popular singer.
Afterward, Cara threw a bunch of shirts and guitar picks into the audience as a thank you gift. During her goodbye speech, Cara's eyes began to water and her voice began to crack while expressing the struggles though her journey along with her gratefulness to her audience. Many celebrities develop an ego after achieving fame and forget to be thankful to their fans, but that is not the case with Cara. Cara demonstrates humility and gratitude throughout her success and continues to make music that leaves her followers with a positive emotional impact.