Aigner Dives his Way through School
"Matthew Aigner from Tompkins High School doing a one and a half," one of the judges says. His heart races as he is up next. His coach and teammates watch as he gets on the board. He takes a deep breath and starts. His entry was flawless. Most judges score high. Aigner is in the lead with his score of 143. Parents and divers cheer. His teammates come up and tell him he did a great job. The end of the meet comes and the divers wait to see who the winners are. Aigner is announced first place and the winner of the meet.
Diving is a much harder sport than many may think. It takes core and leg strength, a lot of courage and practice. Not just anyone can pull off the insane dives completed by varsity divers at Tompkins High School. Aigner is just a freshman and is already on varsity. On Tuesdays and Thursdays he goes to A&M to practice with junior Summer Free at Seven Lakes High School. Aigner has a bright future ahead with diving.
"I practice five times a week here and two to three times a week I go to A&M for club practice," said Aigner.
Aigner practices after school until 3:30. He says it takes a lot of dedication to practice at A&M because it's an hour and a half away and after he has to drive back and do his school work. He sees a future in diving and hopes to continue it in college.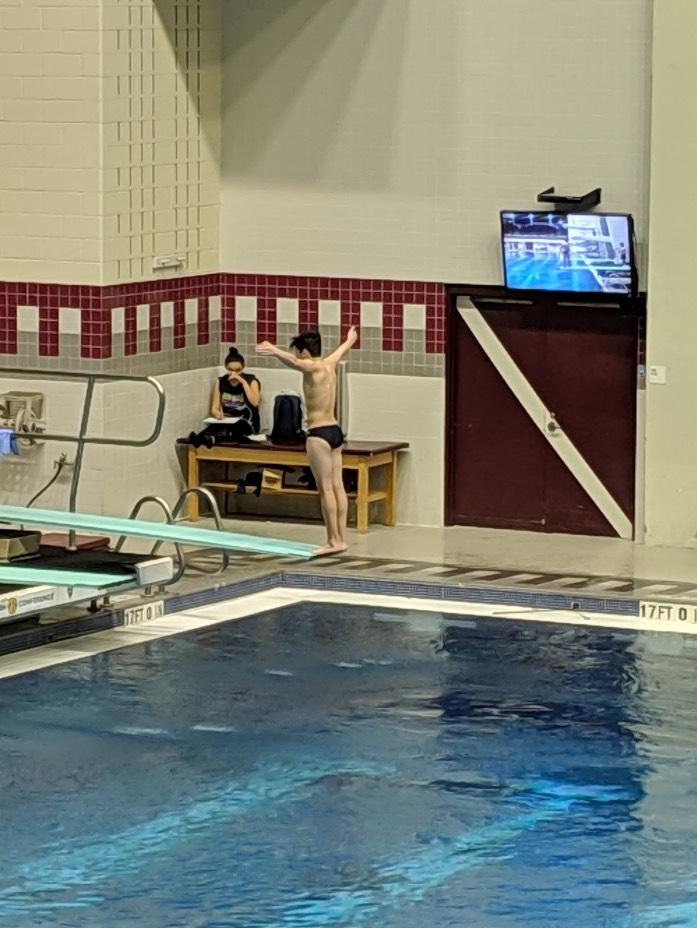 "The hardest dive for me to complete is the back one and a half summer salt and one and a half twist," said Aigner.
Having a strong core when diving is key. In order to have a clean delivery, every muscle has to be tight. Many of the divers complain about doing one and a half's because of their difficulty. Even though he has mastered all of the dives he brings to meets, Aigner still has trouble with the back one and a half summer salt and one and a half twist.
He plans to take his diving skills past high school with a possible career. Since he already practices at Texas A&M University two times a week, it would definitely be a good college to look into for diving. Whether Aigner plans to go as far as high level competitions such as the Olympics is unknown, but it's not unrealistic for a naturally talented diver such as himself.
"I think he needs to make improvements but he's really talented and already on varsity as a freshman," said freshman Lorenza Kabuloglu.
Kabuloglu is a good friend of Aigner. She is also a diver for Tompkins JV. The two met in junior high at Seven Lakes. She supports him in diving and truly believes he has the talent and drive to go somewhere.
"He gets really stressed when he has a hard dive at a mee,t but he usually does just fine and it's all in his head," said Kabuloglu.
Aigner's coach, Coach Jake Kinzbach, and his parents know he has a bright future ahead when it comes to his career in diving and as an athlete.