Varsity Cross Country Girls and Boys State Bound after District and Region Wins
After their hard work and determination, the boys and girls cross country teams accomplished their goals on winning District on Oct. 12. The boys dominated at the Region 3 Meet to repeat as Region Champions as they had two boys finish in the top 10 (Cole Lindhorst – 3rd and Justin Duffy – 7th) and beat the 2nd place team by 36 points. The girls were Region 3 Runner-Ups behind top-ranked Stratford.  These underclassmen (6 sophomores and 1 freshmen) ran extremely tough in the cold and mud. The state meet will be Nov. 3 in Round Rock, Texas.
This track season started off strong as the varsity girls and boys team pulled through, putting in their effort and determination to lead the pack as well as grow and learn. Friday, Oct. 12, both girls and boys varsity teams had been congratulated as district champions at Bear Creek against the six other schools in the district including Katy, Morton Ranch, Taylor, Cinco Ranch, Mayde Creek and Seven Lakes. Boys coach Walter Yarrow, and girls coach Amy Pitzel, trained and prepared their teams for a season of victory.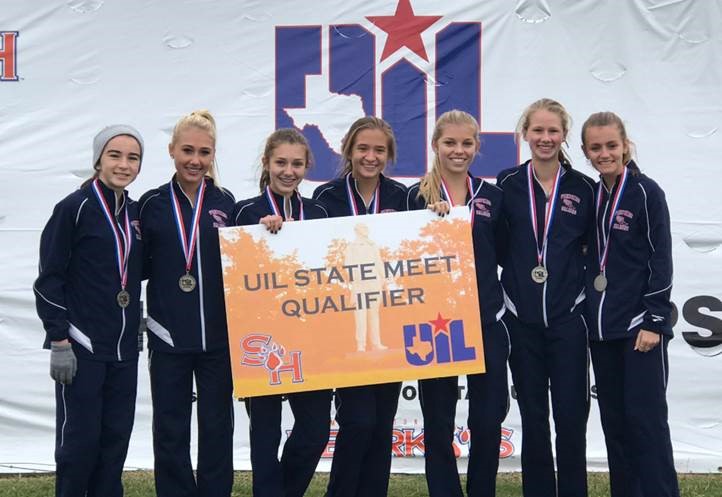 "Lately, we have been working on running as a pack, so the strength of our team is really that all seven of ours are strong.' A lot of teams have one or two really great girls but then there is a gap between the next ones, whereas all of our seven can score for us anytime," said Pitzel.
Preparing for meets and region, the team has worked on trying to hit certain paces, help each other and keep motivated. The coaches believe on their team working together and running strong in able to achieve success. This season, however, had some challenges, but the team worked hard to overcome them.
"We faced the challenge of high expectations. We had a good season last year, and our goals were to train harder, work together and race together. With success, it is easy to get complacent sometimes and we had to keep focused," said Yarrow.
To win, the team put in all their effort, hard work, and determination, running not only as a whole but as one.
"Last year, we won district in region and 11th in state, but I feel like we are going to finish this season much higher in place with our progress and strength," said Pitzel.