Cross Country Keeping Strong
This Saturday, Sept. 9, the Girls Cross Country team raced at the Cy-Woods XC Invite.  Varsity was 2nd place behind Woodlands by 1 point and  JV was Team Champions. 
On the Varsity team, Alyssa Balandran placed 1st, Lauren Titus placed 2nd, and Hayden Gold placed fourth. On the Junior Varsity team, Laura Orgeron took 1st place, Gabriella Rico placed 3rd, Nikki Laerum placed in 5th, Kay Davidson placed 7th, and Leilyn Cremins placed 10th.
Cross Country races again this Friday, Sept. 15, at the CFISD Invitational at Spring Creek Park.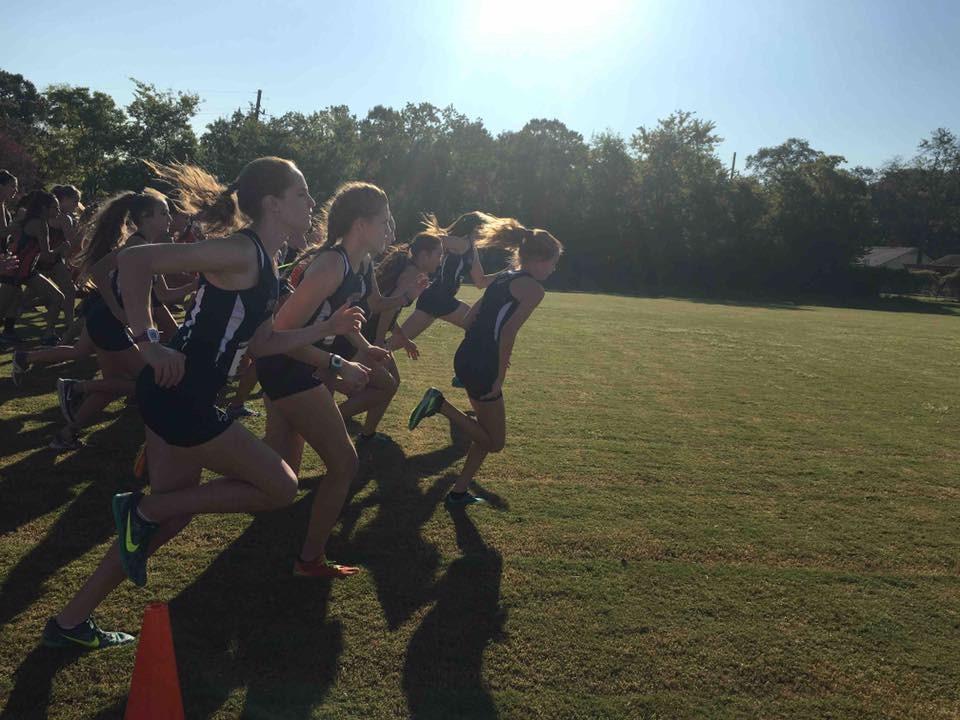 Cross Country Girls run at the Cy-Woods XC Invite.
Update:     At the Cy-Woods Invite Tompkins competed against 19 other schools and won all divisions. Freshmen Boys, JV Girls, JV Boys, Varsity Girls, and Varsity Boys were all Team Champions.
Varsity Boys
Daniel Figueroa – 2nd Place
Cole Lindhurst – 5th Place
Jonathan Hernandez – 8th Place
Adam Smith – 9th Place
JV Boys
Abdon Verejo-Parada – 3rd Place
Eric Nakazono – 5th Place
Lathan Porch – 6th Place
Zachary Crawford – 7th Place
Nicholas Dye – 8th Place
Guillaime Pattyn – 10th Place
Freshman Boys
Gavin Saacke – 1st Place
Varsity Girls
Alyssa Balandran – 2nd Place
Lauren Titus – 3rd Place
Hayden Gold – 6th Place
Kat Ibarra – 9th Place
JV Girls
Laura Oregeron – 1st
Kay Davidson – 4th Place
Meghan Terrel – 5th Place
Nikki Laerum – 10th Place