KatyISD Student Detained Due to Travel Ban
On Friday, Jan. 27, President Trump signed an executive order banning travel from seven predominantly Muslim countries into the United States. Immigration from Iraq, Syria, Iran, Sudan, Libya, Somalia and Yemen has been stopped for a minimum of three months. Immigration of refugees has been suspended indefinitely. Over the weekend, protests erupted at airports nationwide, as thousands of incoming Visa holders, green card holders and refugees were detained or sent back to their country of origin.
One of those detained was Mohammed Khadra, a junior at Katy High School. While travelling through George Bush Intercontinental Airport on Jan. 28, mere hours after Trump signed his executive action, Khadra was stopped by immigration officials. He was flying from his home country of Jordan, which he had returned to earlier to renew his Visa. Khadra lives in Katy with his older brother, Rami Khadra, while his parents reside in Jordan. R. Khadra, 27, has lived in the United States for five years as a green card holder.
Khadra was held at Bush Airport for two days before being transferred to a children's holding facility in Chicago, Ill. Now staying at the shelter, M. Khadra is only permitted to speak to his brother over the phone once a week. Although paperwork for his release has been filed, he will likely not be able return to Katy for several months.
Notably, Jordan is not part of President Trump's list of seven countries included the travel ban, and many questions from M. Khadra's family have been raised over the nature of M. Khadra's detainment.
Sophomore Nikki Laerum, who is the child of an immigrant, strongly detests the travel ban. She believes it is not only unfair but discriminatory.
"I think the travel ban shows President Trump's real motives because the seven countries that he has banned are not countries that have (produced) any immigrants that have become terrorists. It makes no sense. I think it's unfair that Mohammed Khadra was detained, and things are just going to get worse," said Laerum.
Laerum wants teenagers to know that while they have little influence on the policies that Trump puts into place, they should be able to understand his policies and form an educated opinion.
"It's sad to see how our peers and how people our age can be affected by this because teens often think that the federal government has no effect on them, and don't really say anything. But when you see (these things) close up, you can see that it really does affect people," said Laerum.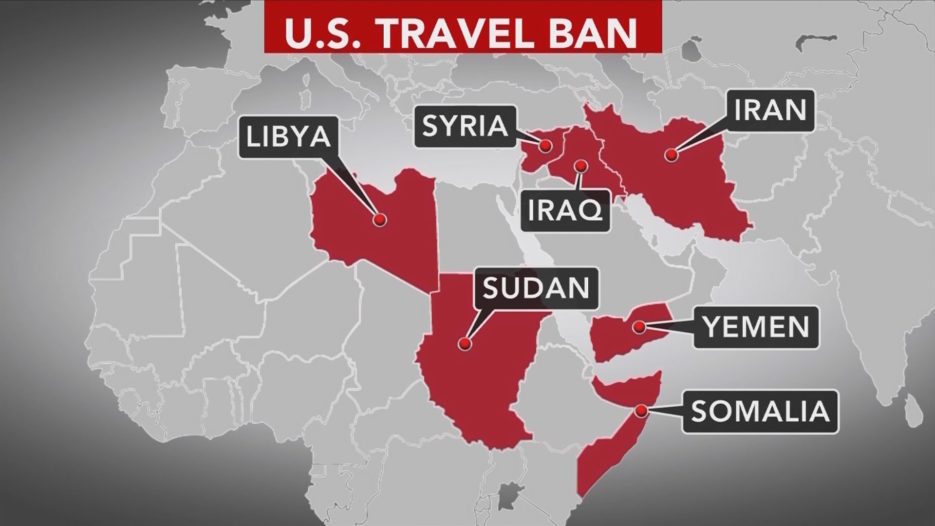 According to CNN, President Trump has stressed the purpose of the ban was to keep unvetted and potentially dangerous people out of the United States, the ban extends to legal U.S. residents approved refugees, valid Visa holders and non-U.S. dual citizens were detained. Upwards of 100,000 Visas have since been revoked from people living both inside and outside the U.S. The over 500,000 people from just the seven countries explicitly mentioned in the ban have received green cards in the past ten years are living at risk of being barred from U.S. or being separated from their families.
According to The Washington Post, hours after President Trump signed the executive order hundreds of immigration lawyers descended upon airports across the country. Many have provided free legal advice to those who have been detained. Major companies like Google and Apple have advised their employees not to travel outside of the U.S. at all out of fear of detainment or deportation, and immigration lawyers agree. Those who are not citizens and especially those from Middle Eastern countries are advised to avoid travelling for the next 90 days and possibly longer if the ban is extended.
U.S. District Court Judge James Robart from Washington issued a ruling on Feb. 3, effectively halting President Trump's executive order. After the ruling, President Trump vowed to appeal the ruling, referring to Robart as "this so-called judge" and slammed his "ridiculous" and "terrible" ruling.
According to Politifact, several states have sued the Trump administration over its executive order that temporarily blocks immigration and travel from seven countries in the Middle East and Africa. While the case is pending, the ban cannot be upheld. Lawyers for the Trump administration appealed that decision to the 9th Circuit, which hears cases from most of the western United States and Alaska and Hawaii. On Feb. 9, a panel of three judges ruled unanimously to affirm the Seattle judge's decision. Trump retaliated on Twitter saying, "SEE YOU IN COURT, THE SECURITY  OF OUR NATION IS AT STAKE!". However, the case is unlikely to appealed and sent to the Supreme Court. President Trump, speaking from Air Force One, said that if the current ban is not upheld, it is highly possible he will pass another one.