Past and Present Feminists in the Houston Area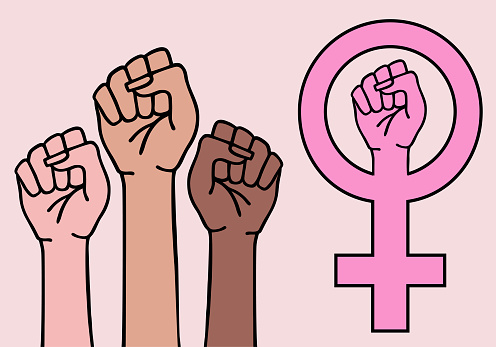 The word 'feminist' seems to have several definitions depending on who you talk to. It can mean someone who believes in equal rights for men and women, someone advocating for women's rights in all fields, but the strongest definition of the word 'feminist' is someone who is a strong female leader in her community. In the Greater Houston area there are multiple examples of feminist in our past and present.
"There is no force more powerful than a women determined to rise," said senior Bosa Seble
Also known as the 'First Lady of Texas', Ima Hogg Was a philanthropist and patroness of arts to the Houston area. She was an avid art collector and worked closely with The Houston Museum of Fine arts to continue funding for the museum. Even after her death in1975, Hogg is still making an impact in the area with her trust funds, supporting charities around the Houston area.
Charlotte Baldwin Allen is the first benefactor to Houston, as her husband used her inheritance to finance the building of  Houston. Allen is known as the 'Mother Of Houston' and is credited with naming Houston. Her legacy continues to show up in the city everyday as Houston thrives and continues to grow along with charities in her name.
Margret Alkek Williams has aided numerous causes over the time of her life. Born into a wealthy family, Margeret Alkek Williams was taught to always give back to the community and use the money to help those in need, Williams was part of multiple organizations including  Brookwood Community, City of Houston, Parks and Recreation Department, Episcopal High School, Houston Ballet Foundation, Houston Grand Opera, Houston Museum of Natural Science, Hobby Center for the Performing Arts, Houston Public Television, Houston Zoological Gardens and the Museum of Fine Arts.
"Feminism isn't about making women stronger, it's about changing the way the world perceives that strength," said sophomore Parnian Ebrahimi.
Many may not know this, but Queen B herself is a native Houstonian. Beyonce is an icon to American society and is viewed as the ultimate feminist, a strong woman capable of doing anything that she sets her mind to. Beyonce may not still live in Houston, but she inadvertently helps the community by being a role model for girls. Beyonce shows young girls to not be apologetic about their true self and to stand strong no matter what life throws at you.
Elaine Robertson has supported the Katy community through her numerous years of teaching. Robertson has focused on improving Katy ISD's audiological center and improving education for kids with hearing impairment. Robertson and her husband, Steve Roberston, to congratulate their years as educators and providing for their community.
Jane Meyer is the former Head of St. Agnes Academy, a private girl-only school in downtown Houston. Meyer revamped multiple programs at St. Agnes including creating a science program that did not previously exist. Meyer retired after several years focusing on building a school that would teach girls to become strong capable young women.