FFA Achieving Greatness at Katy ISD Livestock Show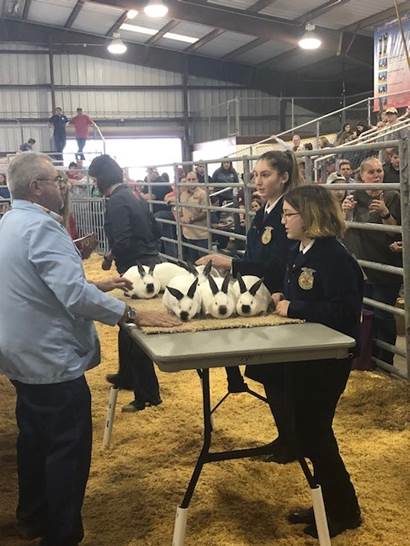 Feb. 14  was a day of exciting events and high ranking accomplishments for FFA members who competed at the Katy ISD Livestock Show. Students exhibited  their animals in the rabbit and broiler shows, and sophomore Mia Sexton made history as the first person from Tompkins to be awarded as Grand Champion exhibitor for placing first with her market rabbits. This an extremely hard title to earn for there were over 60 pens of rabbits and only the top 10 pens make it to the live auction. Sophomore Angelica Juarez and freshman Shelby Bickford also placed 14th and 18th respectively for their rabbits, making it into the top 20. At the broiler show, senior Jenna Marler placed sixth overall and was just out of the students selected to go to the live auction. In addition to the rabbit and broiler shows, FFA members welcome special needs students at the Special Rodeo. The members were paired up with buddies and had a fun filled day with mechanical bulls, camel and hay rides, face painting, alligator and reptile encounters and a trick frisbee dog team.
On Feb. 15 the rodeo continues with market swine and steer shows as well as the first rodeo performance at 7 p.m., where Sexton will be a part of the Parade of Champions and walk with her Grand Champion Banner into the arena. Also, sophomore Rylie Lettow, freshman Danielle Jawad and sophomore Aline Breaux will be participating in the calf scramble.