Falcons Compete in Farrington Language Contest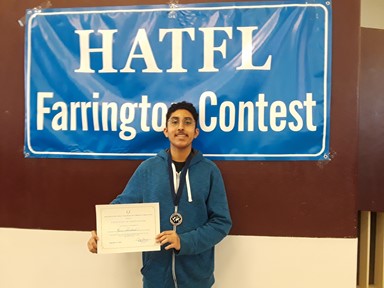 Students who have a love and interest for foreign languages wait anxiously in this diversity rich school for the competition to begin. They are placed in specific classrooms that are categorized by the language being competed in and the level. A combination of excitement and nervousness fills the air as students prepare to compete against other schools with the hope of winning.
This Year the Farrington Contest, hosted by HATFL (Houston Area Teachers of Foreign Languages), was held at Northbrook HS in Houston on Jan. 27. Several schools participated and since there were a limited amount of students that each school could send to participate, teachers took different approaches on how they chose the students they wanted to send. Spanish teacher Amne Kreiler picked the students with the highest grades in her class, while
American Sign Language teacher Amber Warren hosted tryouts for her classes. Junior Rebekah Greene competed in American Sign Language and placed second. This was her third year competing, and she was one of the students responsible for helping the other ASL competitors from Tompkins who were newer to this competition.
"Tompkins ASL has placed in the top 5 for every category every year since the school has been open and I really wanted to continue that. But even if I do not, it is still a cool experience because I get to interact with people I would not normally see," said Greene.
ASL has won first place many times in this competition and students participating in all levels have contributed to this win. Since both of the rounds for the ASL competition are interviews, Greene, who competed in level three, worked on increasing her fluency in the language. She also attended deaf socials, using this time for extra practice with communicating in the language.
"The competition is a really cool experience because I get to meet a lot of new people. It is a full day of just signing, so it is very interesting and I learn something new every year that I compete," said Greene.
Students, who are competing in American Sign Language, do not have a written portion of their exam and instead go through two rounds of interviews. They advance to the second round if the judges select them to be in the top five. The competition brings together many exceptional students who share the common goal of being part of a new experience as well as representing their school in a positive light. Freshman Naren Prakash competed in level two Spanish and advanced to the finals by placing third. Kreiler supported him along the way and is proud of his accomplishments.
"Prakash has a strong work ethic and truly has a love for the language. He has this great attitude about learning foreign languages, so I was very confident that he would win," said Kreiler.
The competition for Spanish consists of two rounds. Students wait in classrooms for the first round of a written test and the top five scores advanced to the second round, which is the interview process. Prakash has been prepping for this competition for three to four weeks. He worked with Kreiler, who would help him practice writing elaborative sentences and paragraphs after school. On his own time, he reviewed grammar and everything he had learned so far in Spanish.
"I wanted to compete because I thought it would be fun to test how much I know about Spanish and see how I compare to the others. This competition pushed me to prioritize learning the language as opposed to learning it just for getting good grades," said Prakash.