Cursed Controversy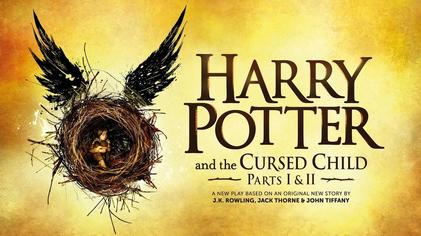 Harry Potter and the Cursed Child, the eighth book in the wizarding world of Harry Potter series adapted from the rehearsal script of the London West End play, is one that is stirring up controversy word wide. Many die hard Harry Potter fans argue that this book shouldn't be considered the eighth book, because it wasn't written by JK Rowling, but rather by the playwrights John Tiffany and Jack Thorne. Other say that the characters are not the way they imagined them 19 years later. In any case many people are saying that Harry Potter and the Cursed Child did not live up to their expectations of a new Harry Potter book.
The book follows the children of the Golden Trio, Harry, Ron, and Hermione, as they navigate their lives at Hogwarts 19 years after the events of Harry Potter and the Deathly Hallows. The main protagonist, Albus Severus Potter, despises living in the shadow of his father "Harry Potter, the boy who saved the world", and will do anything to show that he is his own person. Even if that means befriending a Malfoy, and changing history itself. Scorpius Malfoy, the son of Draco and Astoria Malfoy is Albus Severus' best friend and the only one to understand an unwanted legacy, seeing as many people believe him to be a direct descendant of the Dark Lord himself. The two best friends decide that they don't want their parent's history haunting them, and take drastic measures to break apart from their parent's pasts.
The book is different from the others for obvious reasons like being in theatre script format and not the traditional JK Rowling writing type. Although many people say that it is nothing like the books they grew up with, the playwrights did a fairly good job at keeping the wizarding world whole. They illustrate this by including spells used frequently in the original seven books and movies, and naming off places and people that were Potterhead favorites. So while the book was not a completely true representation of the generational phenomenon it sufficed fans need to return to the world they grew up in.