Top 10 Movies to Watch Before You Graduate
Accepted (Teen/Film Comedy)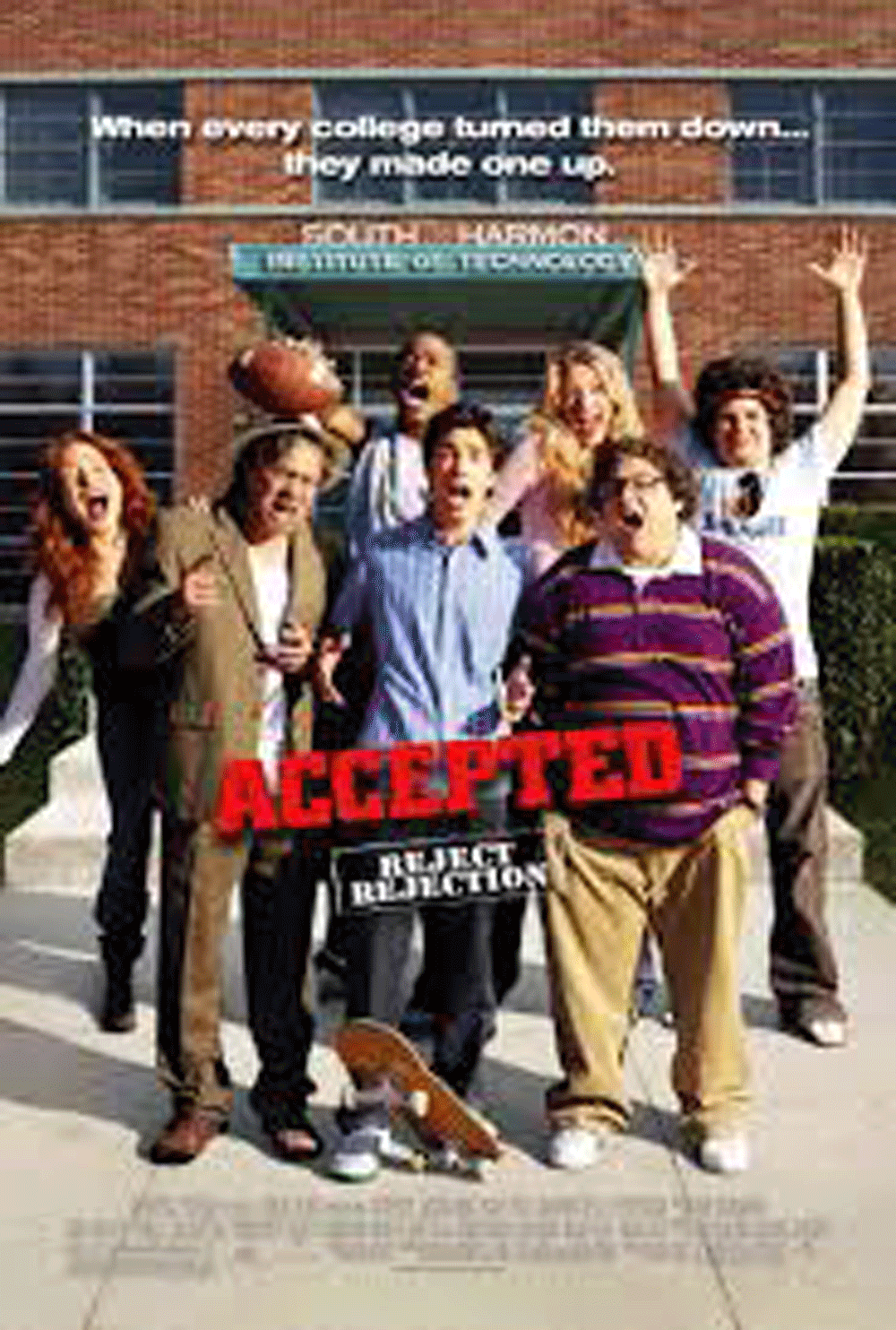 Synopsis: After receiving his latest college rejection letter, senior Bartleby Gaines writes a novel way to fool everyone into thinking he is college-bound: Open his own university. Bartleby and his similarly stymied friends take over an abandoned building, create a fake Website, hire a friend's uncle to pose as the dean and — presto — a school is born. However, they do their jobs too well, and soon many other rejects try to gain admittance to the nonexistent South Harmon Institute of Technology.
Trailer: https://www.youtube.com/watch?v=MZkurgJOP4c
Rating: PG-13
The Breakfast Club (Drama film/Comedy-drama)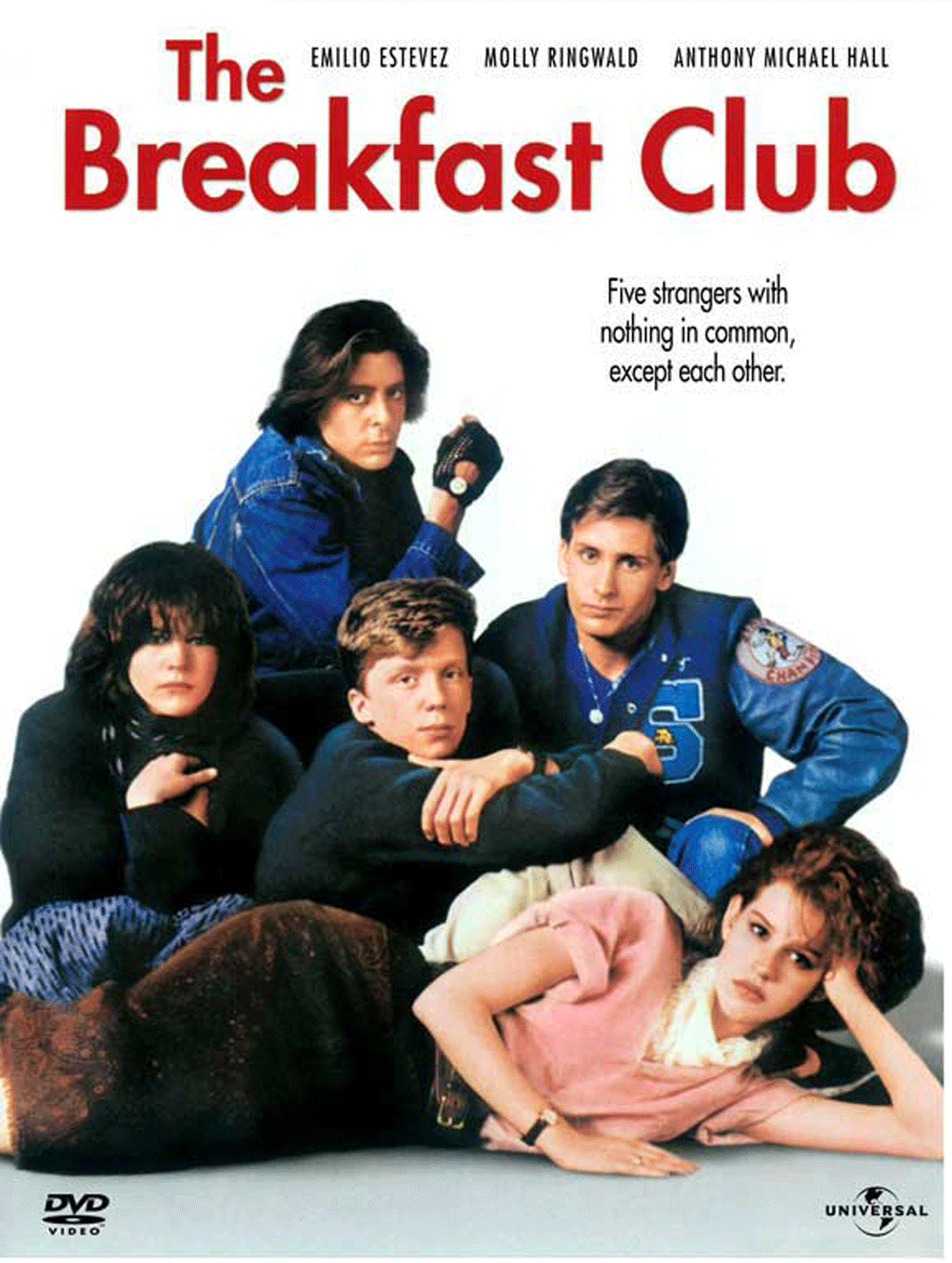 Synopsis: Five high school students from different walks of life endure a Saturday detention under a power-hungry principal. The disparate group made up of a rebel, princess, outcast, brainiac and the school jock. Stuck in a room together these conflicting personalities class. Although they walk into school that morning preparing to serve a normal detention at the end of the day they question whether school will ever be the same.
Trailer: https://www.youtube.com/watch?v=n7wIEC4glrk
Rating: R
Bring It On (Sport/Comedy)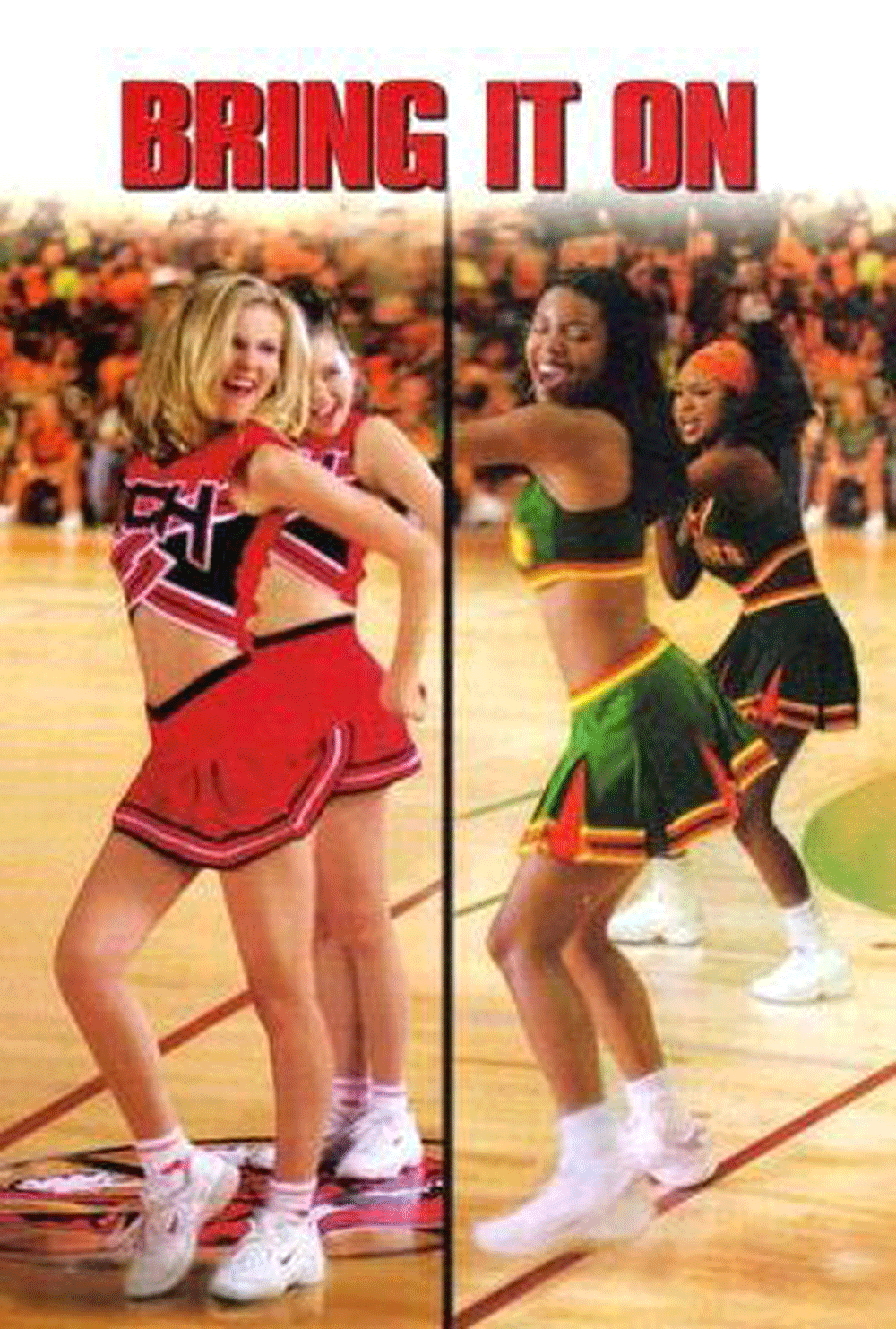 Synopsis: The Toro cheerleading squad in San Diego has spirit, spunk, sass and a killer routine that's sure to land them the national championship trophy for the sixth year in a row. But for newly-elected team captain Torrance, the Toros' road to total cheer glory takes a shady turn when she discovers that their perfectly-choreographed routines were in fact stolen from the Clovers, a hip-hop squad from East Compton, by the Toro's former captain. In the cutthroat world of competitive cheerleading the two teams come face to face and challenge each other..
Trailer: https://www.youtube.com/watch?v=1sAsa9PMicc
Rating: PG-13
Easy A (Teen film/Romantic Comedy)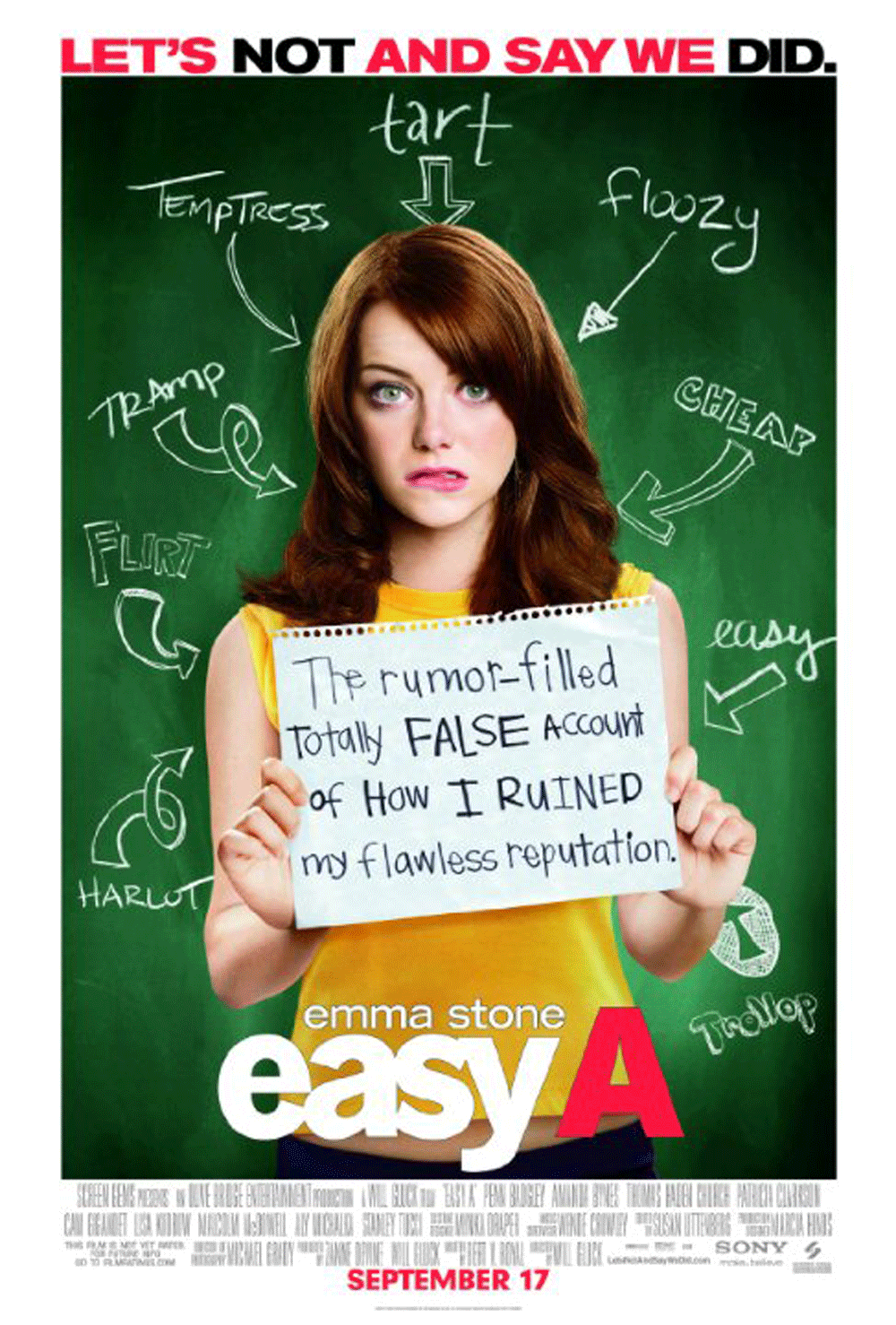 Synopsis: Prompted by her popular best friend to spill details of her boring weekend, a clean-cut teen, Olive, decides to spice things up by telling a little lie about losing her virginity. When the high-school busybody overhears the conversation and spreads it all over campus, Olive is suddenly notorious, but for the wrong reasons.
Trailer: https://www.youtube.com/watch?v=KNbPnqyvItk
Rating: PG-13:
Ferris Bueller's Day Off (Drama/Teen film)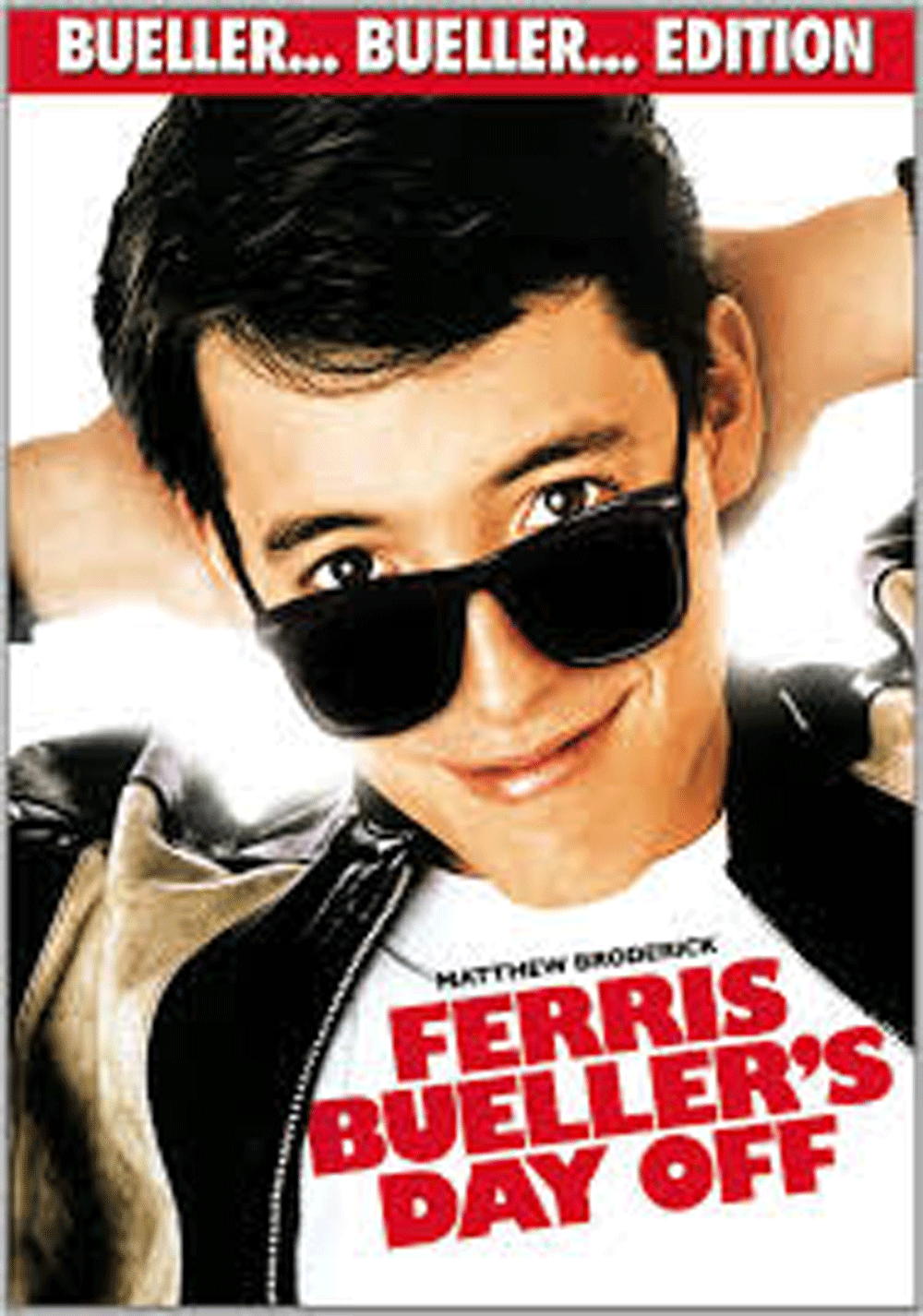 Synopsis: Ferris Bueller has an uncanny skill at cutting classes and getting away with it. Intending to make one last duck-out before graduation, Ferris calls in sick, "borrows" a Ferrari, and embarks on a one-day journey through the streets of Chicago. On Ferris' trail his high school principal is determined to catch him in the act. Will Ferris get away with one last hoorah?
Trailer: https://www.youtube.com/watch?v=R-P6p86px6U
Rating: PG-13
Grease (Comedy music/Teen film)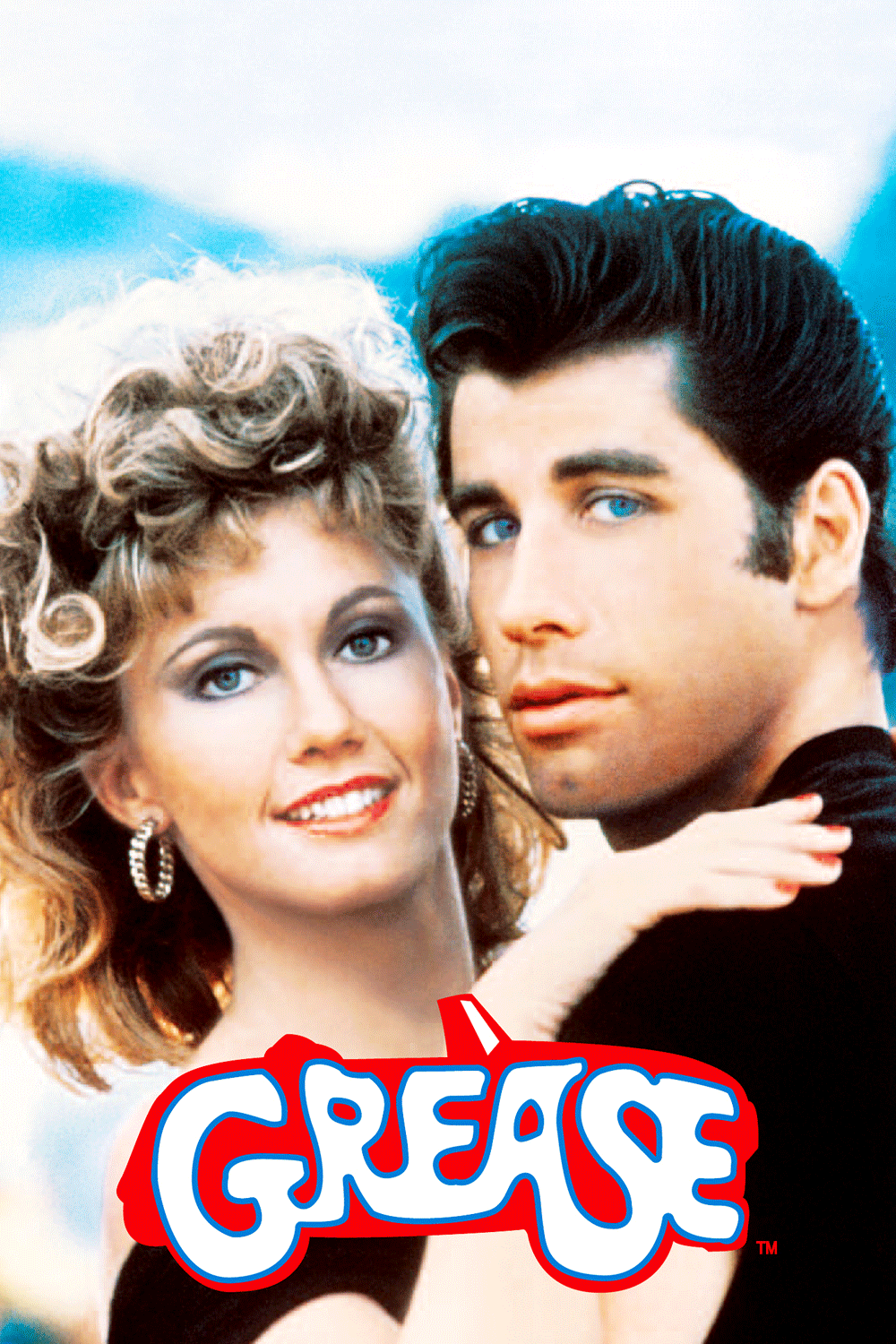 Synopsis: Experience the friendships, romances and adventures of a group of high school kids in the 1950s. Welcome to the singing and dancing world of "Grease," the most successful movie musical of all time. A wholesome exchange student and a leather-clad Danny have a summer romance, but will it cross clique lines?
Trailer: https://www.youtube.com/watch?v=wzWmxjYNfz4
Rating: PG-13
High School Musical 3 (Comedy Music/Drama)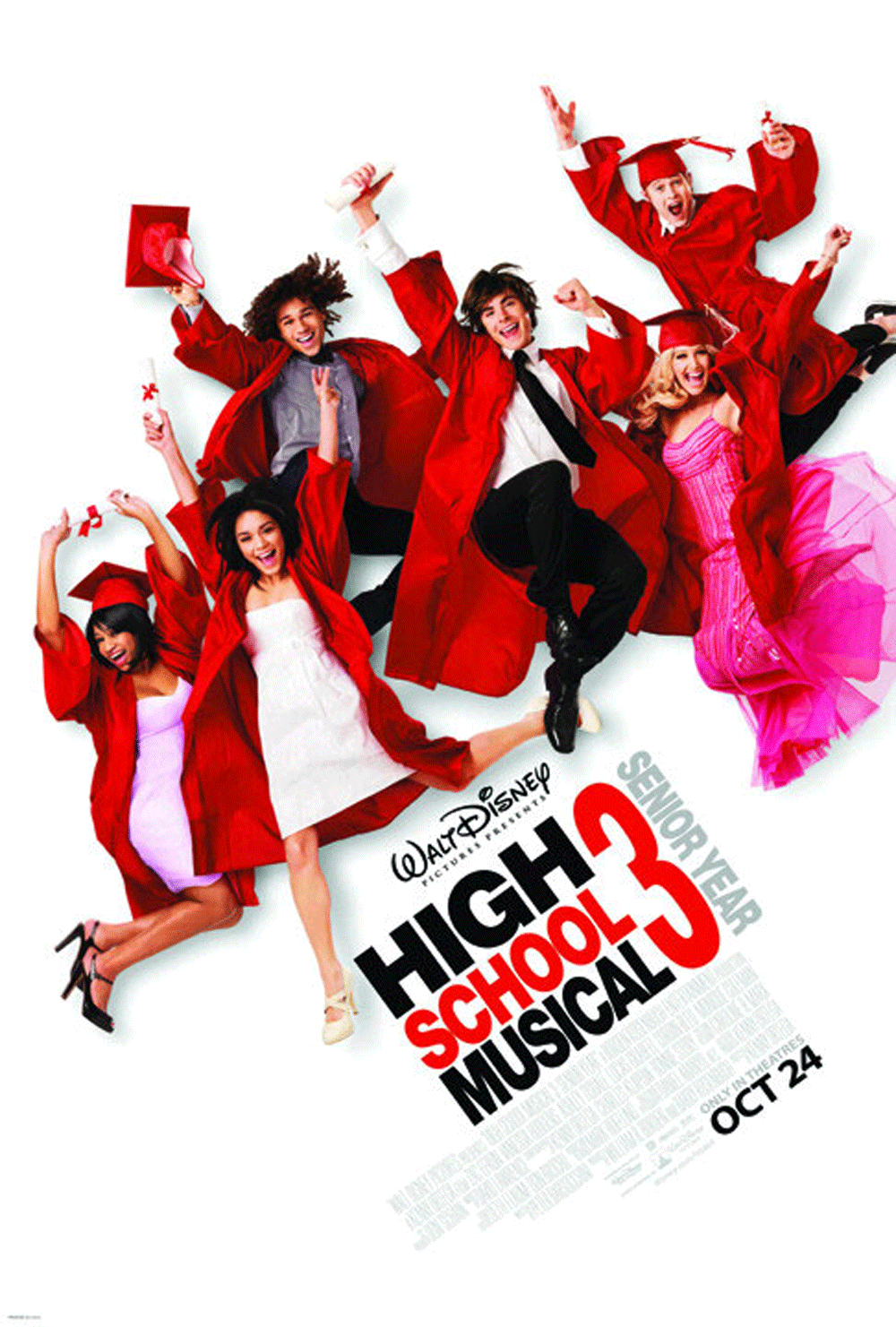 Synopsis: Amid preparations for a basketball championship, prom, and graduation, sweethearts Troy Bolton and Gabriella Montez vow to savor every moment, knowing that college plans put the future of their relationship into question. An elaborate spring musical is just the thing for these two Wildcats and the rest of their classmates to express their fears and hopes for the future.
Trailer: https://www.youtube.com/watch?v=bEQXcbqvbT0
Rating: G
Mean Girls (Teen film/Comedy)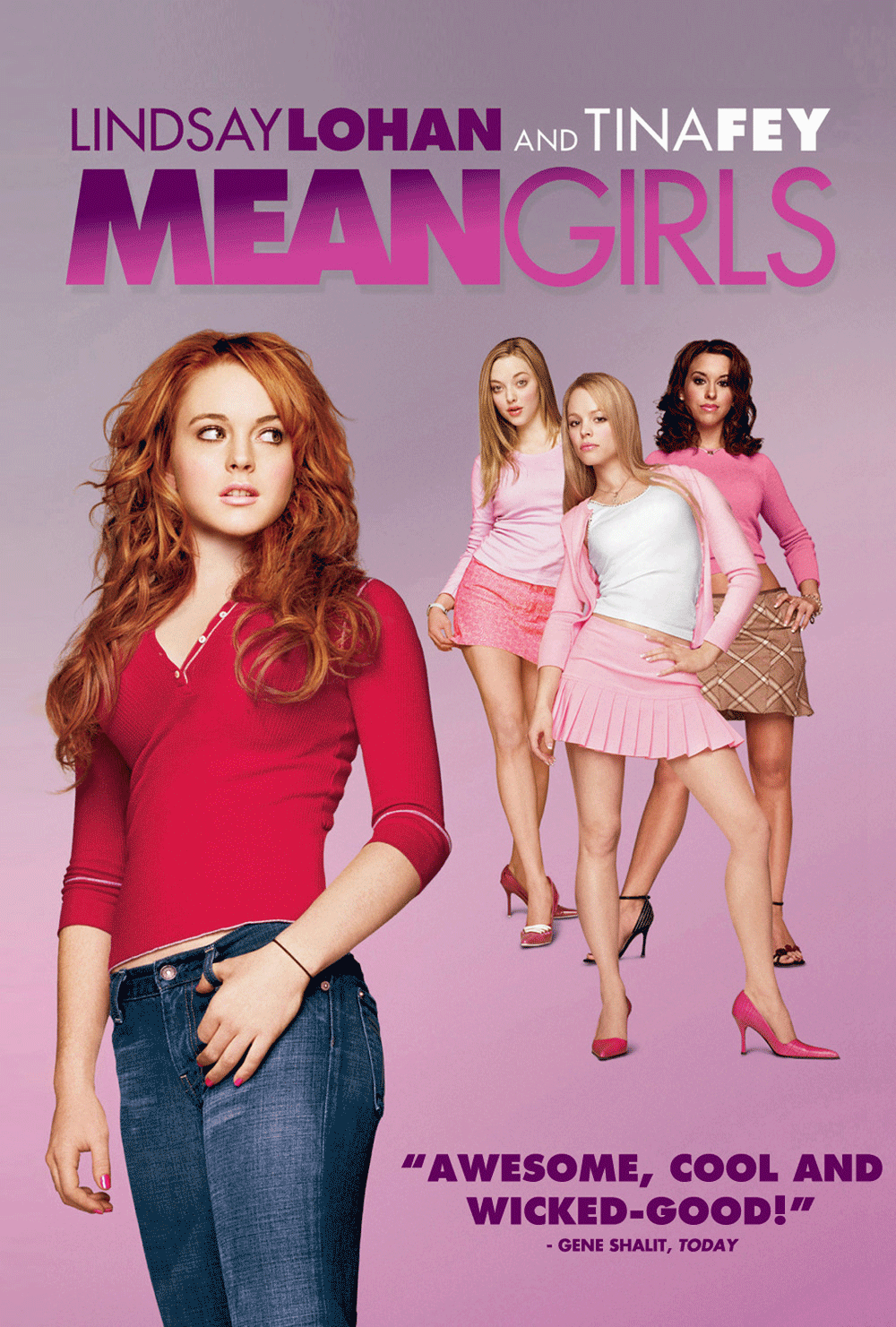 Synopsis: Teenage Cady Heron was educated in Africa by her scientist parents. When her family moves to the suburbs of Illinois, Cady finally gets to experience public school and gets a quick primer on the cruel, tacit laws of popularity that divide her fellow students into tightly knit cliques. She unwittingly finds herself in the good graces of an elite group of cool students dubbed "the Plastics," but Cady soon realizes how her shallow group of new friends earned this nickname.
Trailer: https://www.youtube.com/watch?v=KAOmTMCtGkI
Rating: PG-13
Napoleon Dynamite (Comedy)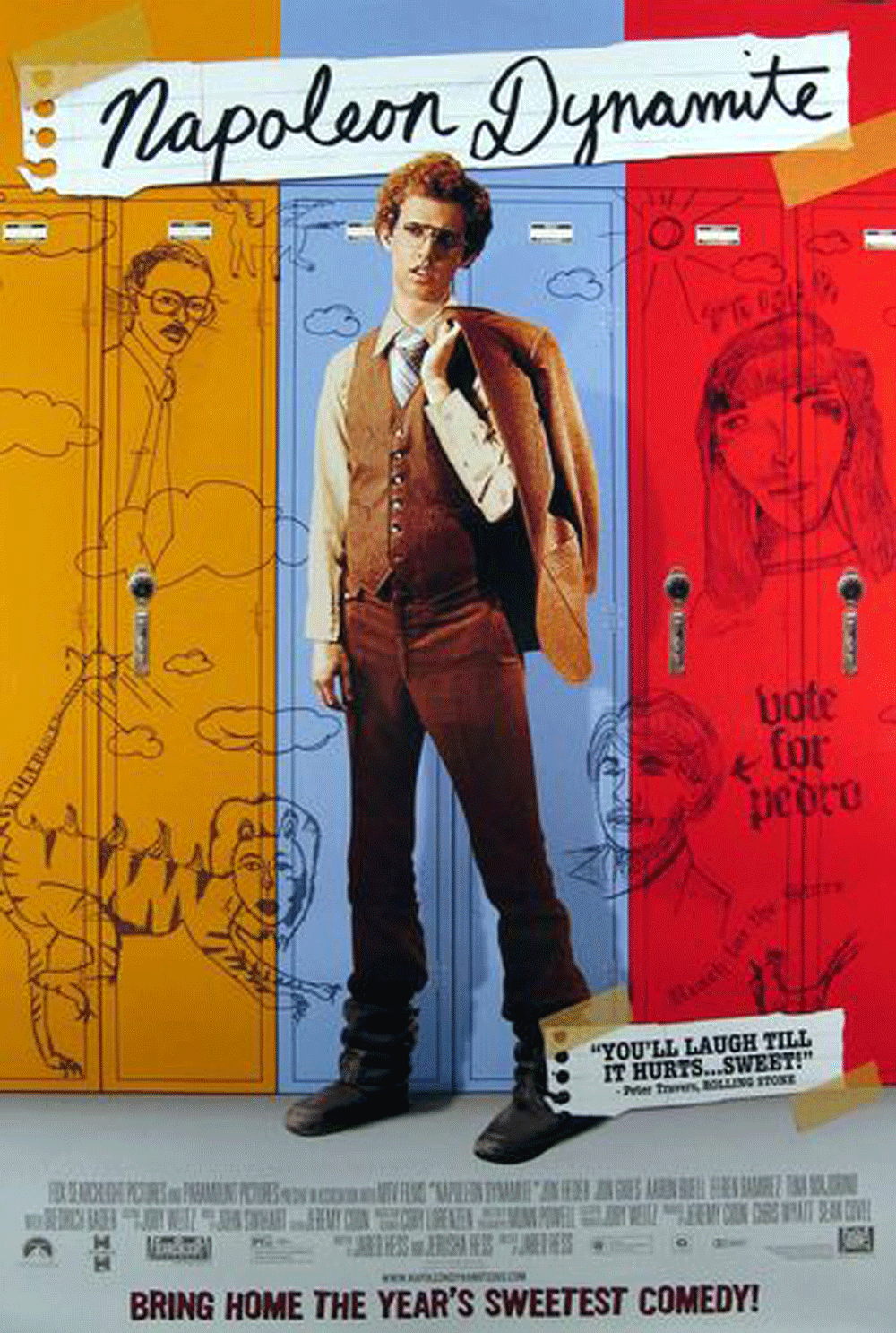 Synopsis: In small-town Preston, Idaho, awkward teen Napoleon Dynamite has trouble fitting in. After his grandmother is injured in an accident, his life is made even worse when his strangely nostalgic uncle shows up to keep an eye on him. With no safe haven at home or at school, Napoleon befriends the new kid, a Hispanic boy who speaks little English. Together the two launch a
campaign to run for class president.
Trailer: https://www.youtube.com/watch?v=qH-FBPRf7NQ
Rating: PG
Remember the Titans (Sport/Drama)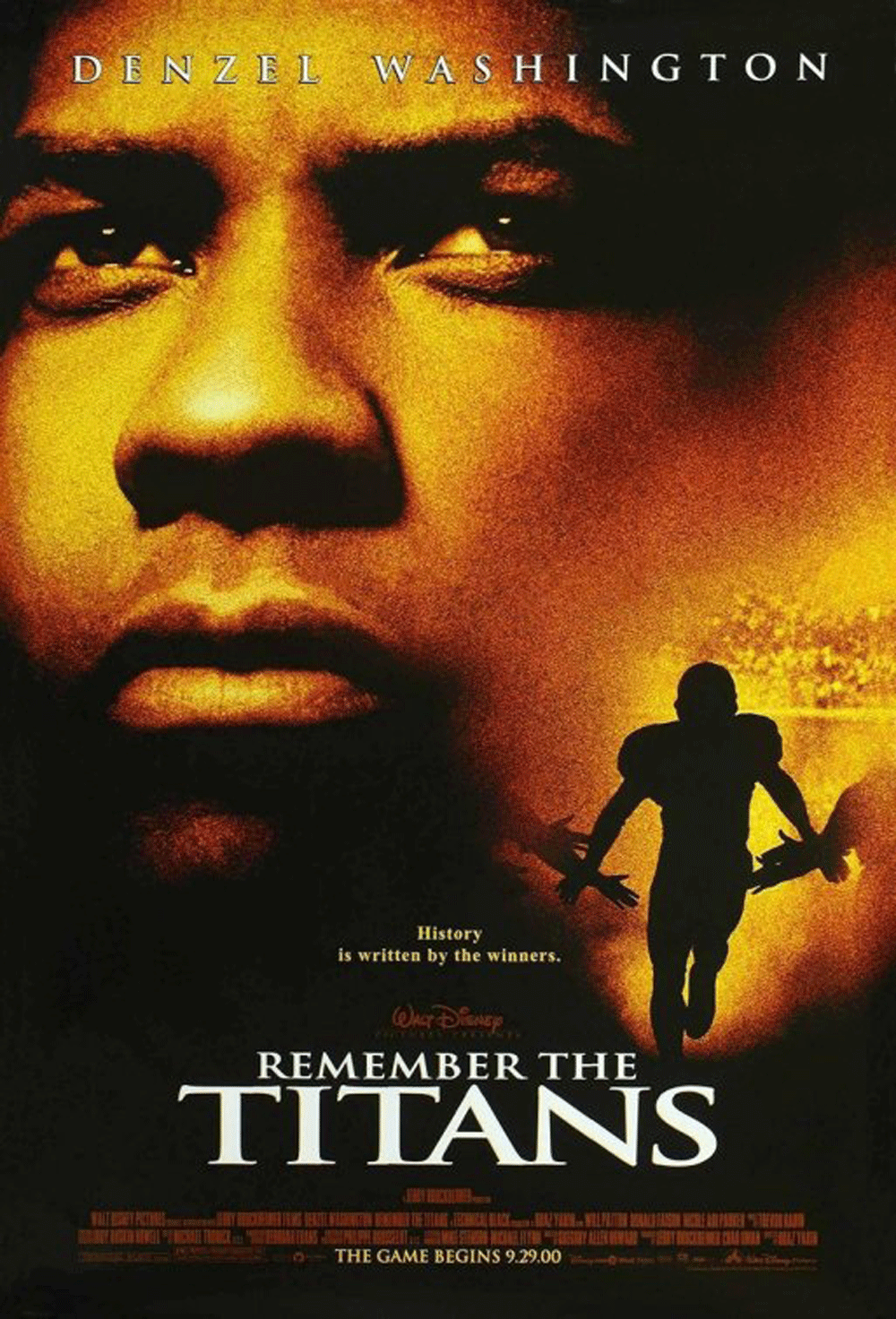 Synopsis: In Virginiaa, high school football is a way of life, an institution revered, each game celebrated more lavishly than Christmas, with playoffs distinguished more grandly than any national holiday. And with such recognition, comes powerful emotions. In 1971 high school football was everything to the people of Alexandria. But when the local school board was forced to integrate an all black school with an all white school, the very foundation of football's great tradition was put to the test.
Trailer: https://www.youtube.com/watch?v=nPhu9XsRl4M
Rating: PG