Down to the Last Shot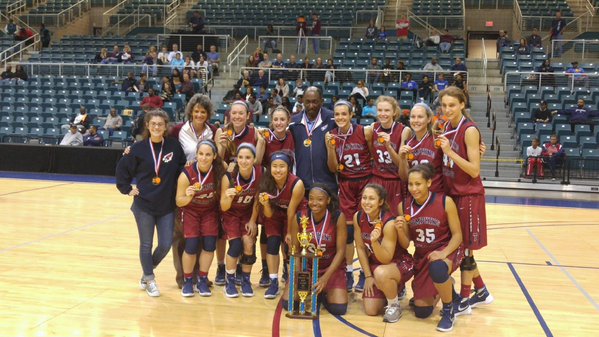 Being one of the only teams that reached playoffs in the past, the girls' basketball program at Tompkins has not let that go to their head. Beginning in March of this year, all of the players put forth their hardest work in order to get stronger, faster and better, both individually and as a team. From the first week of school till now, the girls have been coming up with effective plays and working together to make one another better at individual and team skills. The team now has 11 wins and three losses over the course of their preseason.
The varsity team has competed in two tournaments thus far: the Spring Branch ISD tournament and the Katy ISD Classic. They won the championship in both. Seniors Kendall Rollins and Alison Goss and junior Hannah Hudson were named All-Tournament Team while senior Brittany Panetti was named the Most Valuable Player for the Spring Branch ISD tournament. Rollins, Goss and Panetti were all awarded the All-Tournament team for the Katy ISD Classic tournament.
"Winning the Spring Branch tournament after losing the championship last year has been the best part of our season thus far. Also, beating Cy Ranch after losing to them two days prior. I am so proud of this group for coming together as one team, creating unity and togetherness, that will help continue this team to do great things," said Coach Tamatha Ray.
Ray has been putting forth an immense amount of work to help better her varsity team. Not only does she come up with valuable practice and game plans, she also emphasizes on the four cornerstones that she uses to push her players. These cornerstones are used as a visual to remind the players as to why they are competing for a state championship title. The four cornerstones are commitment, discipline, enthusiasm and together. With these installed in the players mind, they will be able to grow as individuals on and off the court.
"To help overcome adversity, I just try to continually coach positively and empower my players to believe in their skill and abilities. Every player, every team will experience adversity so I try to teach players that they have the ability to get up and 'punch' back," said Coach Ray.
As the season continues on, players have to come face to face with adversity. Injuries are prevalent, frustration is inevitable and exhaustion is always there. It is important for all athletes to remember what the goal is, and that is to win a district title and then continue on deep into the playoffs. Panetti and Rollins are two of the girls that are going to continue their career in basketball. Panetti has committed to the University of New Mexico and Rollins committed at the University of Mary Hardin Baylor. Both girls are very ecstatic to continue the game that they love.
"I am fortunate enough to have the opportunity to get a scholarship to go to this school. It is ranked highly in women's basketball programs across the country so I am very excited to start the next chapter of my life here," said Panetti.
Overall, the girls' basketball program is looking stronger than ever. They have worked out for hours upon hours in order to get to the correct physical strength they need to win. So far, they have demonstrated that they are not a team to take lightly. As they progress through their preseason and enter districts, they are willing to go the extra mile to win.