After the recent regional competition, eight contenders are heading to the State meet in a couple weeks, including one diver, five swimmers, and two alternates.
In addition, several school records were set. Spanning the entire season, the two teams broke 6 records, and at Regionals every competitor made it to the final round. The Boys 200 Medley Relay set a new time and received a consideration for All American.
Matthew Aigner became the first diver, as well as the first in the program, in Tompkins history to take home first place at a Regional meet.
The state competition will take place in Austin, Texas in two weeks and these students will be competing:
100 Backstroke: Trinity Tran
Boys 200 Medley Relay: Brandon Schmok (Bk), Christopher Wong (Br), Oscar Guevara Quaglia (Fy), Rico Boone (Fr)
Alternates: John Kuhlmann, Drew Ladner
Diving: Matthew Aigner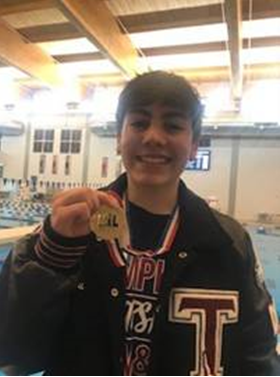 Matthew Aigner
Photo by: Contributed