Quill & Scroll Seniors Volunteer at Houston Food Bank
Morgan Murphy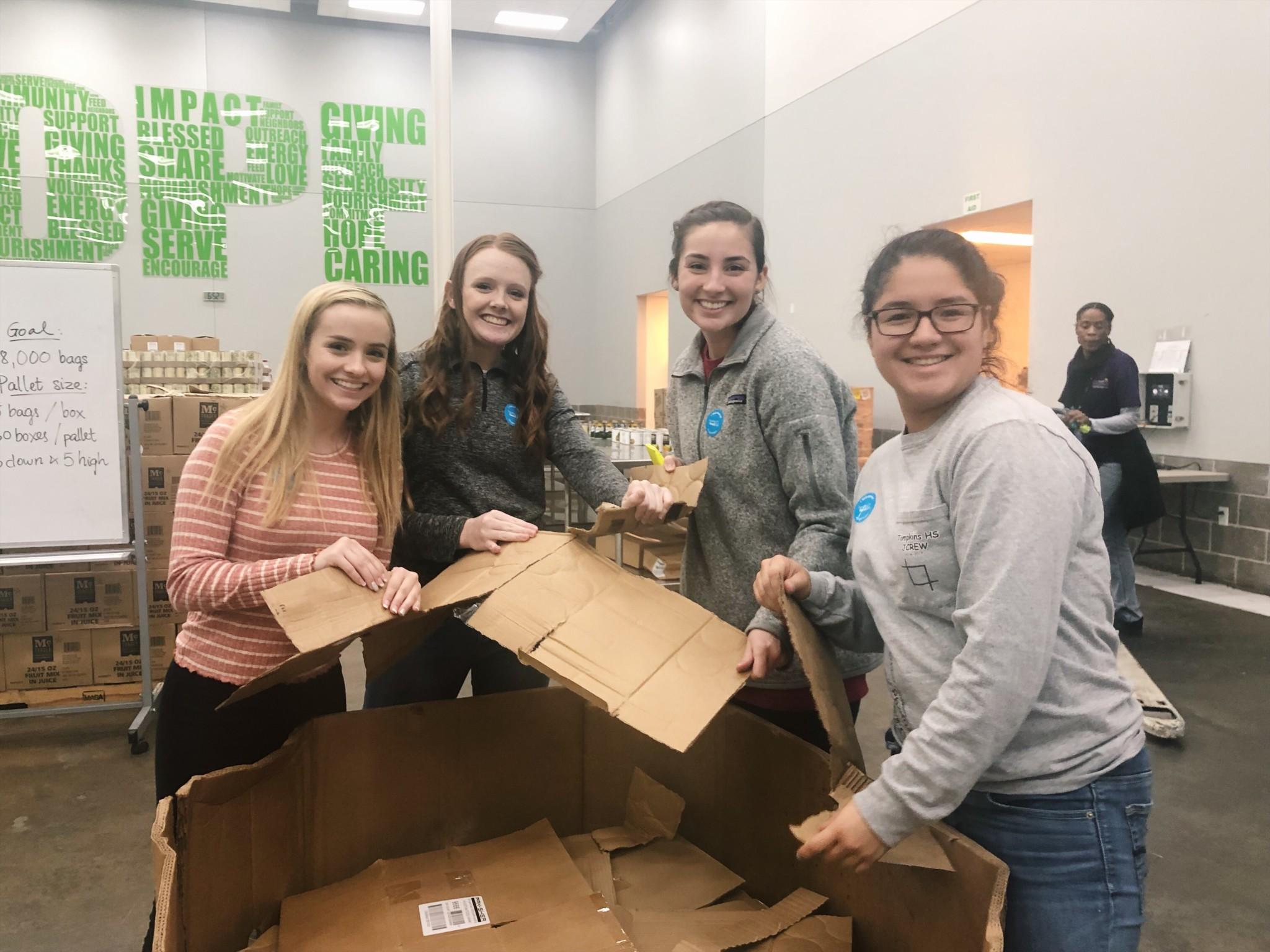 Helping others has always been a passion of mine, whether it's serving those that are underprivileged or simply being a listening ear when a friend is going through a hard time. While volunteering at the Houston Food Bank, I was able to fulfill my passion of helping others by providing at-risk children with meals they would not be otherwise provided if it weren't for the Houston Food Bank's efforts. The "Backpack Buddy" program's purpose is to give meals to students all over Houston and the surrounding areas with food for the weekend. One in four children in Texas are food insecure, and these kids rely on school to provide their meals during the week. Without this program thousands of children would be forced to go without food on the weekends, something no child should have to endure. In just our short three hour shift, we were able to produce over 18,000 individual bags. Through just our small efforts of stuffing plastic bags with canned and boxed goods, loading them in boxes, and recycling the trash, we were able to touch over 18,000 lives and provide for families in desperate need. Although we were not able to directly see the smiles of the children and hear their appreciation, knowing that one small act of kindness we performed on a Friday night with go on to impact children and families struggling to obtain such a basic necessity as food provides enough fulfillment to last a lifetime.
Tyler Olmo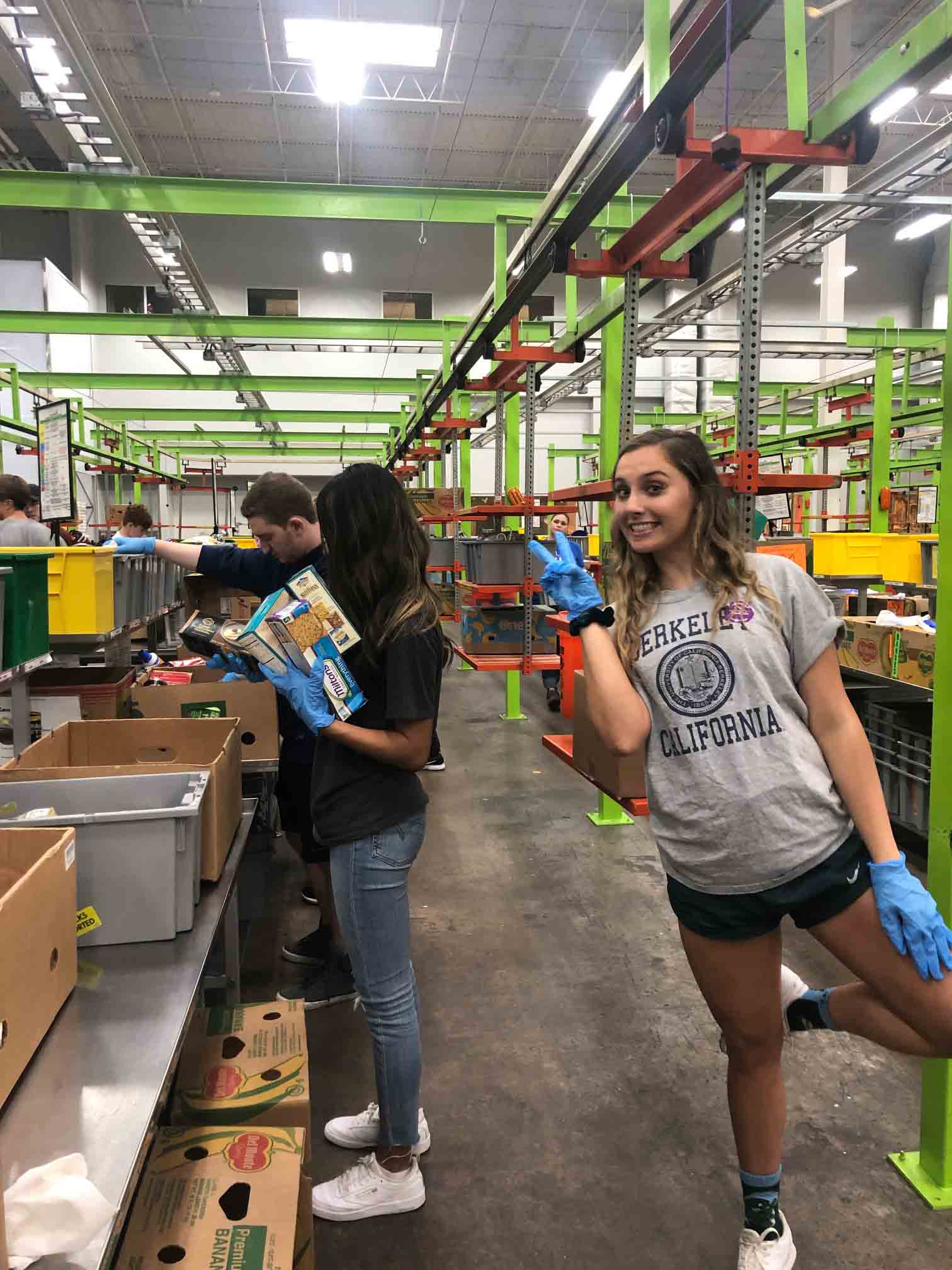 Cartons of food like the vibrant, buzzing warehouse as volunteers gather in groups. The crowd of volunteers strides toward the entrance of the facility in an attempt to hear the instructions of one of Houston Food Bank's various leaders. As instructions disseminate among the crowd, groups of volunteers began to splinter and move towards their respective areas. A low murmur echoes off the walls of the sanitized storage space and conversations begin as the groups initiate their journey into giving back to those less fortunate within their own communities.
While at the Houston Food Bank, I was given the opportunity to truly invest myself in a purpose that was much larger than myself. While my task could be viewed as largely trivial in the much larger process of feeding one of the biggest metropolitan areas in the United State, the experience of actively partaking in that process was one that allowed me to reflect upon many different lessons that some students, even those at my own school, are not afforded.
Most importantly, it allowed me to reflect on the privilege that was inherent to my own life, being the child of an upper-middle class, stable family. There had never been a time in my life where I was not sure when the next meal would come, or a time where my family was not able to provide me with basic items such as food, water or clothing. By accepting this notion, I was able to understand how essential it is for those who are in positions much like my own to give back to their communities and afford those who are less privileged the chance to have some of these basic necessities.
Whilst carrying out my duties at the Houston Food Bank, it also allowed me to reflect upon how dramatic an effect something as simple as volunteering could have. For instance, throughout America, there is an indisputable wealth discrepancy among all races and ethnicities, and while I, a single individual, can do very little to affect that on a broad scale, I do have the ability to simply provide those less fortunate with the bare minimum to simply not worrying about surviving day-to-day. Through that, children who fall in between the cracks of poverty could better be afforded the chance to excel in school or education meaning volunteering not only has the direct effect of providing someone with a meal, yet it means that volunteering has the ability to have wide-reaching, ripple effects on the next generation's society and well-being.
Through these aforementioned reasons, I believe it is essential that all students truly apply themselves to understand the effect that they can have on others' lives and their community. By living in such an information-driven age, students often face a certain disillusionment with the sheer amount of data and statistics which reflect how poorly life is for many Americans, but through personal experience and volunteering, students can truly grapple with the power that they possess and affecting the environment that surrounds them. It is for this very reason I hope to empower those around me to push themselves to give back more and to pay more attention to those who need it most.
Brielle Wood
Serving at the Houston Food Bank was an incredible experience and a great way to give back to my community. Houston is one of the most food insecure cities in the United States and over 66,000 children in Harris County go hungry each day without the proper nourishment. The area that I served in with my fellow JCrew members was the backpack buddies program. Together we put together and wrapped up food to put in the backpacks. One of the main jobs I participated in was the re-cycling the boxes and putting away all the trash or things they could use again. It was a fun bonding experience for all of us. I know service like this is important and people need us to help! I know that as I graduate I've learned that there's always room for a helping hand.
Taylee Snyder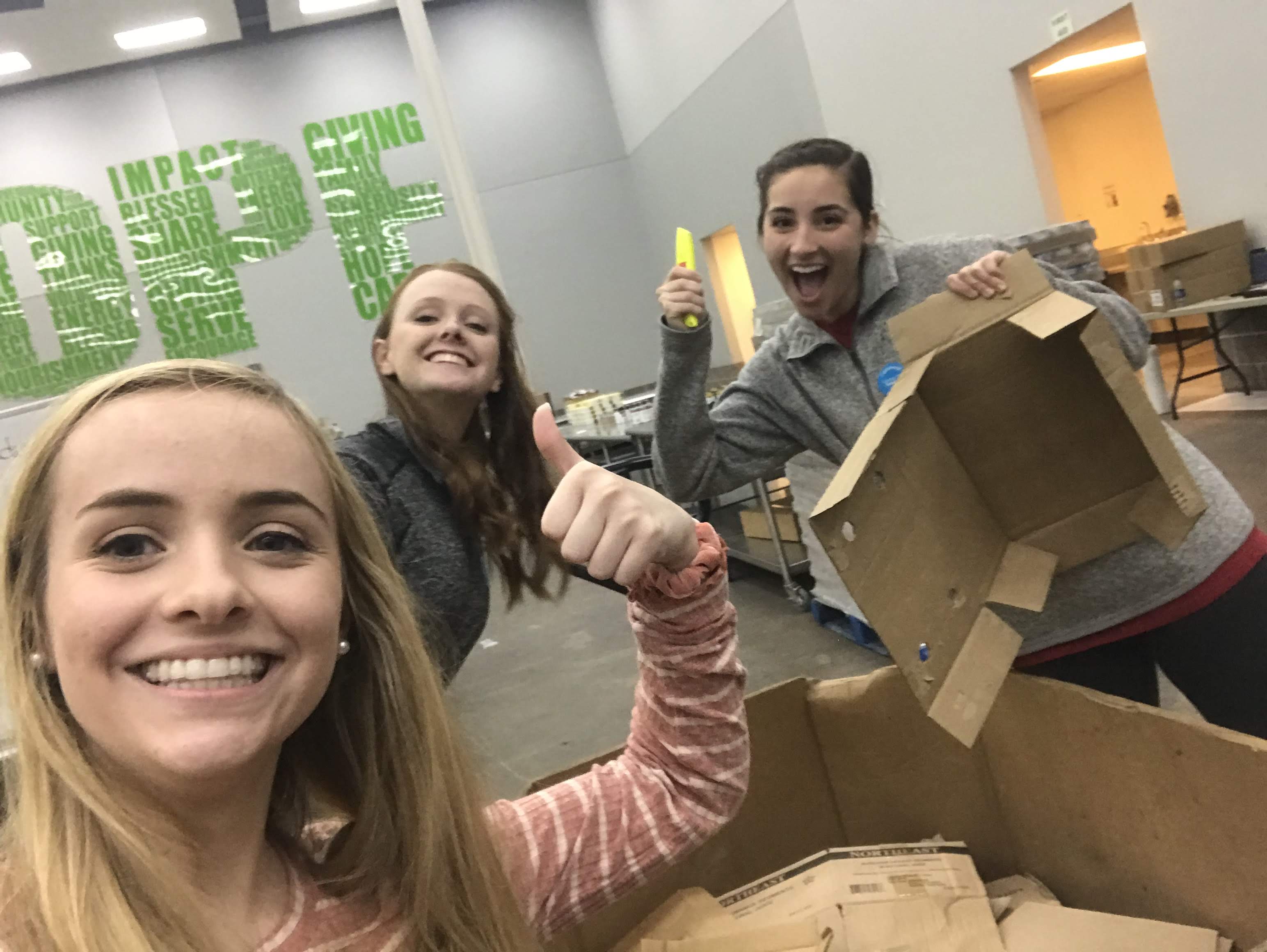 Houston food bank is the largest distributing food bank in the country and serves 18 counties in the southeast Texas area. They need the help from the people of Houston to help sort, distribute and donate food to those in the area that need it. When I went we had the oppertunity to create Backpack buddies that are care packages for students who need food for the weekends. We assembled a bag full of fruit, vegtables, protien, grain, milk and snacks for the weekend. Those bags can feed up to 6 meals so that they do not have to starve when they are not at school for two out of the sevent days during the week. We made these bags to then give out to the students on friday after school. We created around an estimate over 18,000 bags. There is so much one can do or give to help stop the hunger. Donating food, money or your time will further stop hunger to those not only in the Houston area but soon to be the whole country and world.
Riya Kale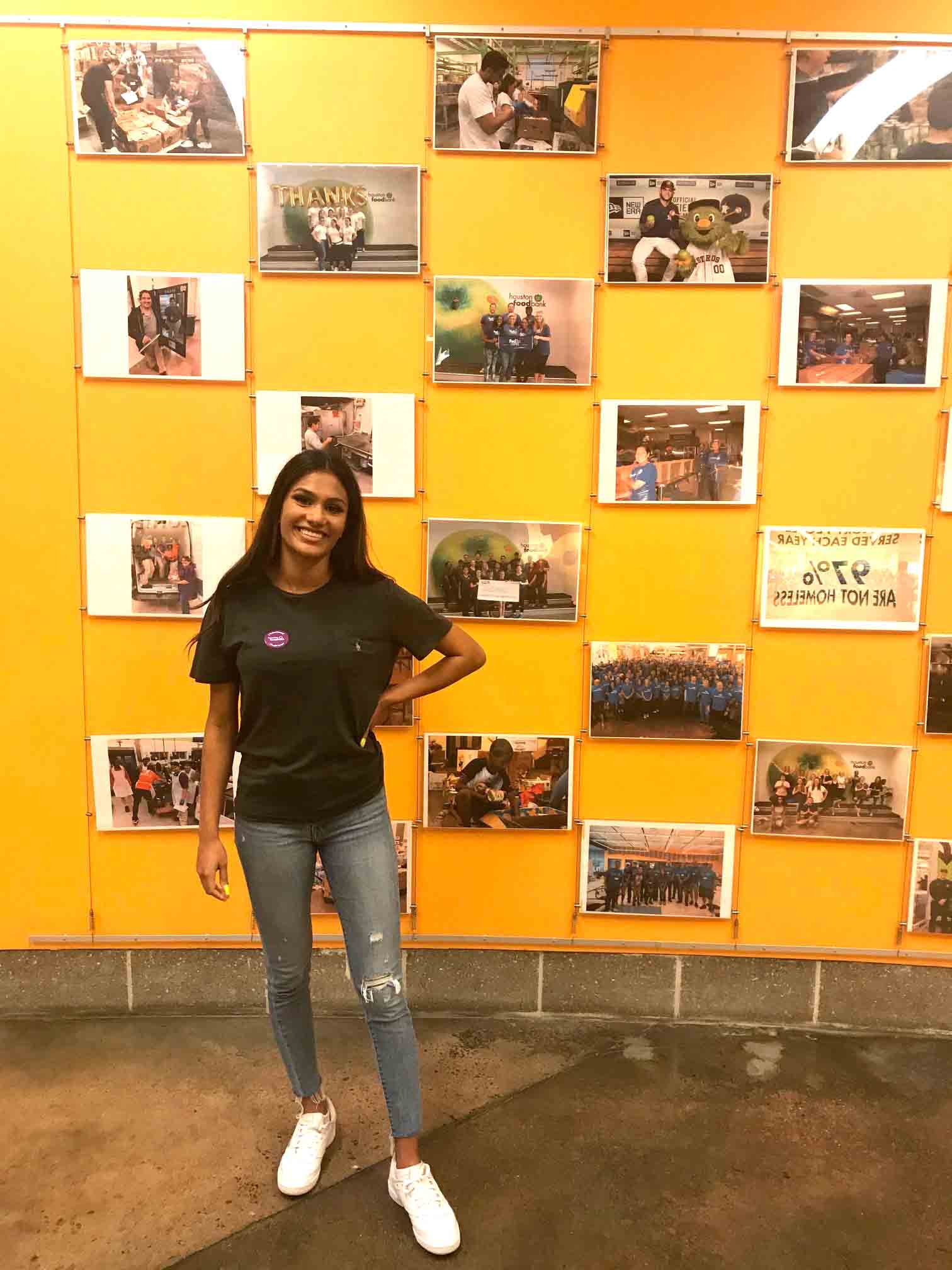 I traveled with two of my fellow seniors, Olivia Garrett and Tyler Olmo to the Houston Food Bank. Going in, all we knew was that we were tasked to volunteer for three hours. After walking in, we signed in and joined the other volunteers who were also working the same time slot as us. A worker from the food bank told everyone to gather together. She introduced herself as Mohini and explained that there are two important words at the Houston Food Bank – flexibility and freeze. Flexibility was not in the literal sense and meant that you may be given one job then be asked to do another different one. Freeze referred to the fact that the staff may ask you to stop your task at any time by saying "freeze". Volunteers were to put whatever they were holding down and hold their hands in the air. Mohini then led us from the lobby into the warehouse portion of the food bank.
We were lined up around stations. In front of us were giant cardboard boxes like the ones produce was packed in for grocery stores, a large thick paper towel, and a pair of gloves. Behind us, a hanging conveyor system delivered even more boxes. Mohini explained that the boxes in front of us were full of donated items and our jobs were to wipe them down, determine if they were able to be used or eaten, then sort them into the appropriate category. After emptying the box, we would put it on the conveyor system and grab a new one off.
Opening a new box was like opening a treasure chest. It was very interesting to see the unique things that people donated and the state of the items they donated. For example, one box I opened only had tens of chocolate snowmen. Another box had a two-pack pregnancy test – with one of the tests missing. One of the volunteers opened a box to find three baby mice. After about two and a half hours, Mohini told us to freeze before explaining that it was time to clean up. Olivia, Tyler and I set up our stations to look like they did when we first walked in.
At 9 p.m., we left the food bank. We were beyond tired and extremely hungry from standing up and moving around for so long, but it was very satisfying knowing that the effort we put in would help those in need. My favorite part about the whole experience was bonding with my two fellow seniors before we go off to college. After spending the past four years together, it was bittersweet to reminisce the fun we had working on The Nest.
Alix Garcia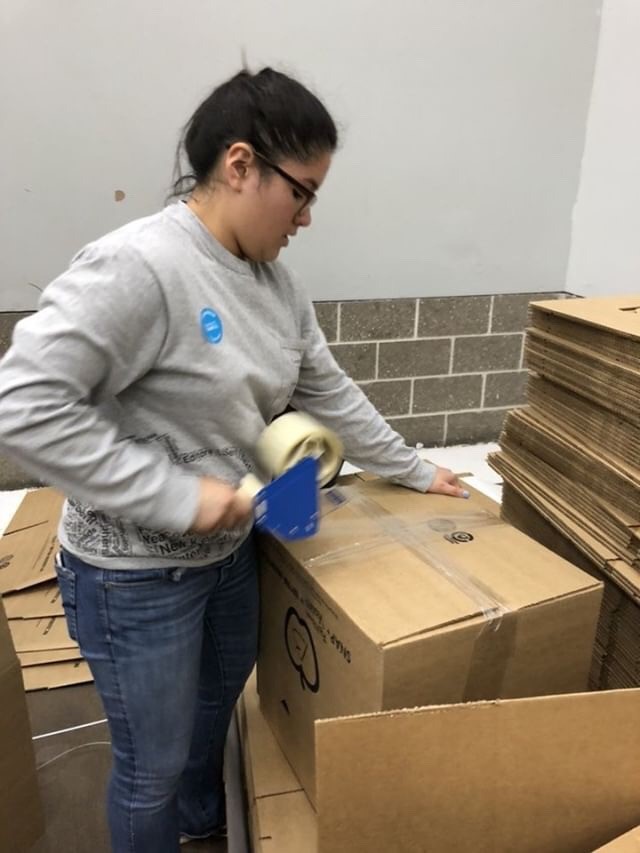 I had the honor of volunteering, alongside my fellow staff members, at the Houston Food Bank to help make nutritious meals for children in the Backpack Buddy Program. Through such, children in elementary are able to have meals during weekends or long breaks without having to worry about where their next meal will come from. While there, I dedicated my time to putting together boxes that would ship the meals to the elementary school and then be distributed to the children. As a result of this service, I feel a true impact has been made to the Houston community as more children are kept from going hungry as well as feel loved and cared for. This volunteer experience has also brought me a new sense of fulfillment as my small part in this greater effort is leading to a rippling change in the lives of children across Houston. In the future, I hope to go back to the Houston Food Bank to continue helping in the Backpack Buddy Program as well as other food pantries throughout my lifetime.
Samyuta Rajagopalan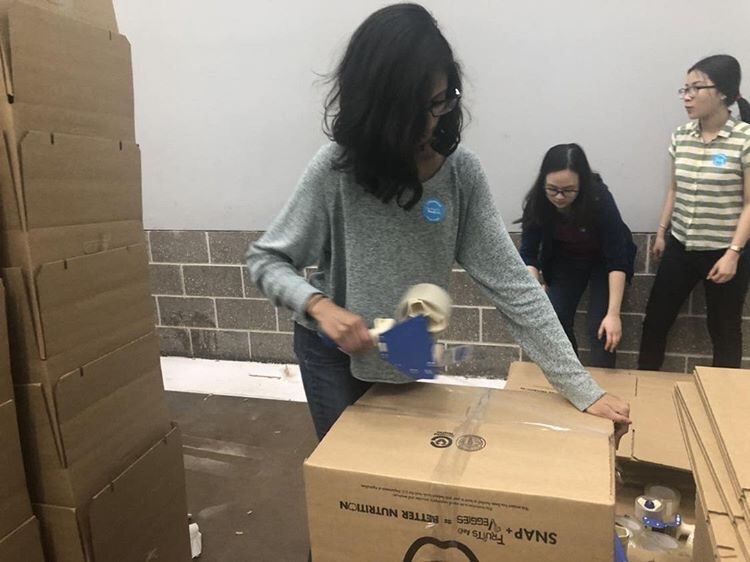 I had the privilege of volunteering at Houston Food Bank. I volunteered for the Backpack Buddy program, which provides first through fifth grade children with nutritional meals during weekends and holidays. We began our shift by introducing ourselves to the other volunteers and to our volunteer instructor. Then we watched a video about the Backpack Buddy program and why volunteers were extremely important in running it. Afterwards, we each got assigned our duties. For myself and a few others, our role was to make the boxes that the bags of food would go in. Each box could hold five bags of food and by the end of our three hours of service, we packed 4,500 boxes, which was enough to feed 900 kids. To know that I was doing something that would benefit so many people made me feel satisfied, accomplished and victorious. Additionally, the Houston Food Bank staff did an excellent job of making the volunteers, like me feel appreciated, which added to the positive experience. Although I played a small role in this, our group accomplished so much, which showed how far even a
Olivia Garrett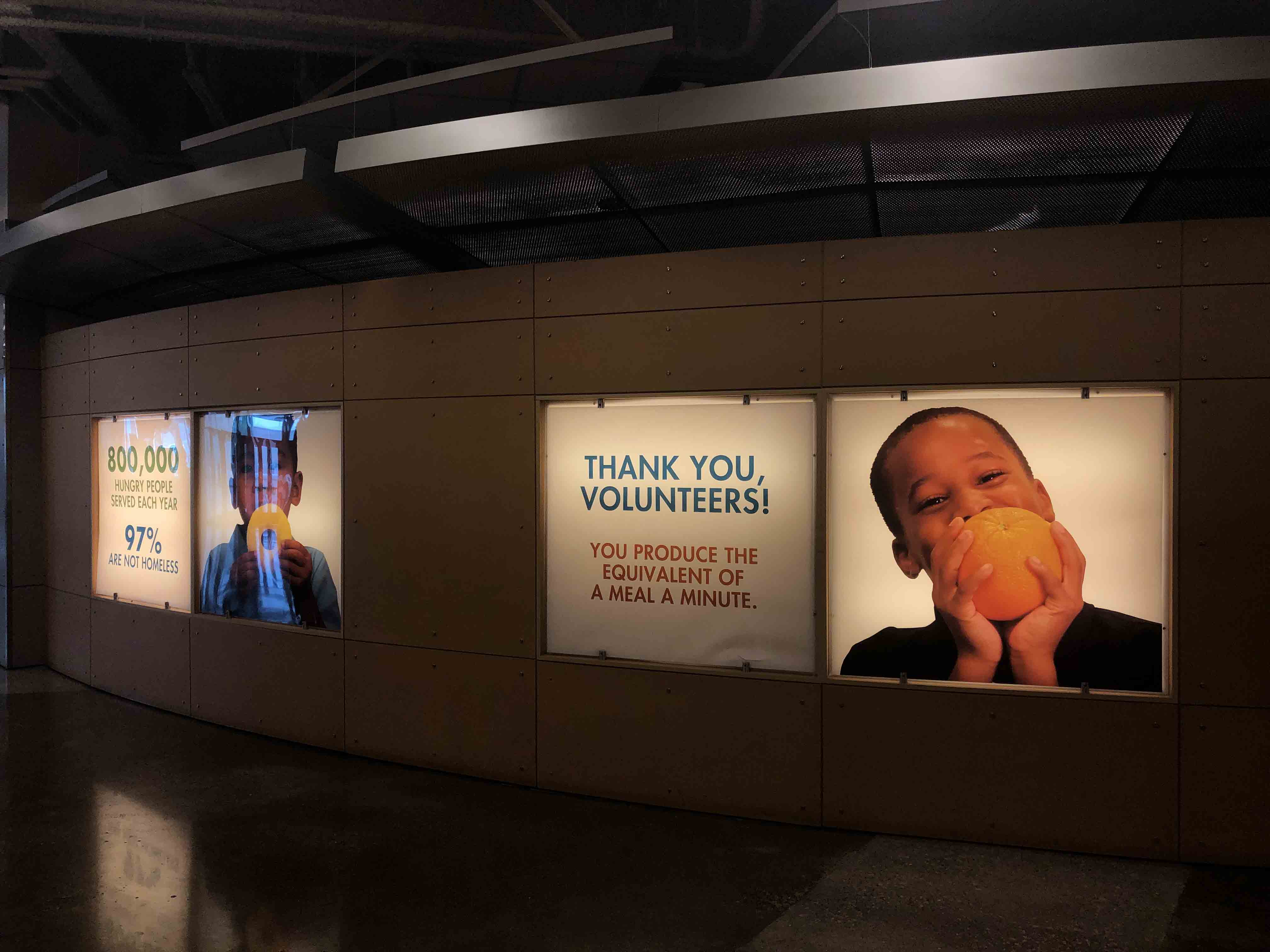 I went to Houston food bank with 2 other editors in my journalism class to assist Houston Food Bank with their warehouse. We did not know what was expected of us when we arrived, but we were ready to help our community in any way we could. We pulled up to the building, walked inside, and checked in with the other 20-something volunteers that were there. A Houston Food Bank representative named Mohini gave us the necessary instructions for our task at hand. She explained the importance of flexibility in the warehouse as we may be moved around to do different jobs as help is needed. We started by grabbing a paper towel and dipping it in cleaning solution and began wiping down the items that were in the boxes in front of us. These items ranged from crackers to nail polish and because the variety of them was so wide, we had to learn their system for sorting the various items they receive. We did this task, cleaning and sorting, for almost 2 hours. When we were let out, we were exhausted but we knew the work we had done was impactful and meaningful to our community. Personally, I felt extremely accomplished knowing that everything I sorted was going to an individual in need.
Leanna Yee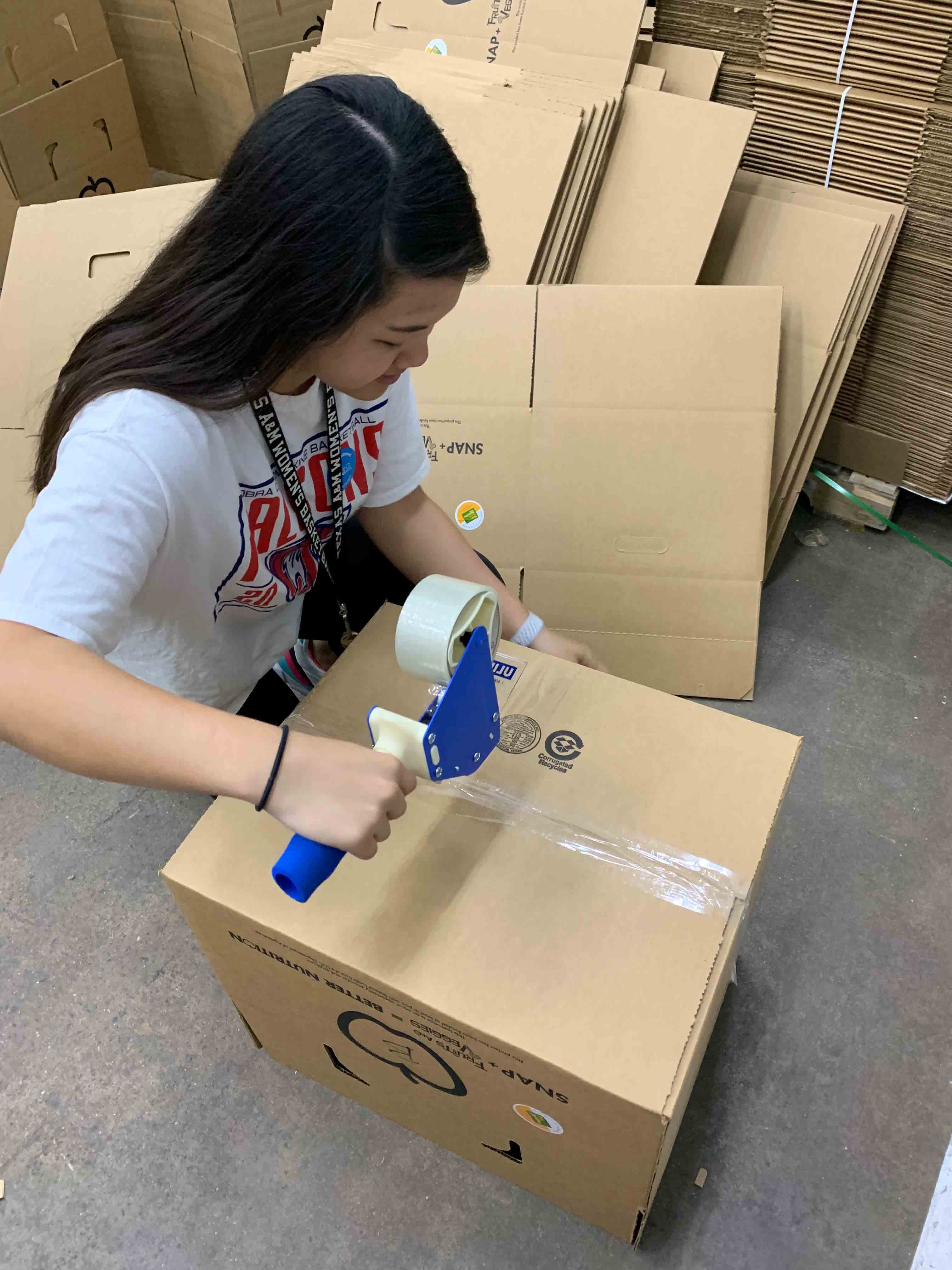 A couple of the school photographers and I went to volunteer at the Houston Food Bank. We were assigned to work at the warehouse where we had to construct lunches for kids that don't have a reliable source of food. The director started assigning people to jobs and put me and a couple others in charge of making boxes. An assembly line was set up, starting with putting various items in bags like fruits, cereals, and canned goods. This experience made me appreciate the things I have that I usually take for granted like access to food, running water, family, and shelter. It was nice to see the Houston community come together and volunteer their time in order to help the lives of others. At the end together, we filled about one hundred fifty boxes containing roughly five or six lunch bags over three hours.
Sofia Sanchez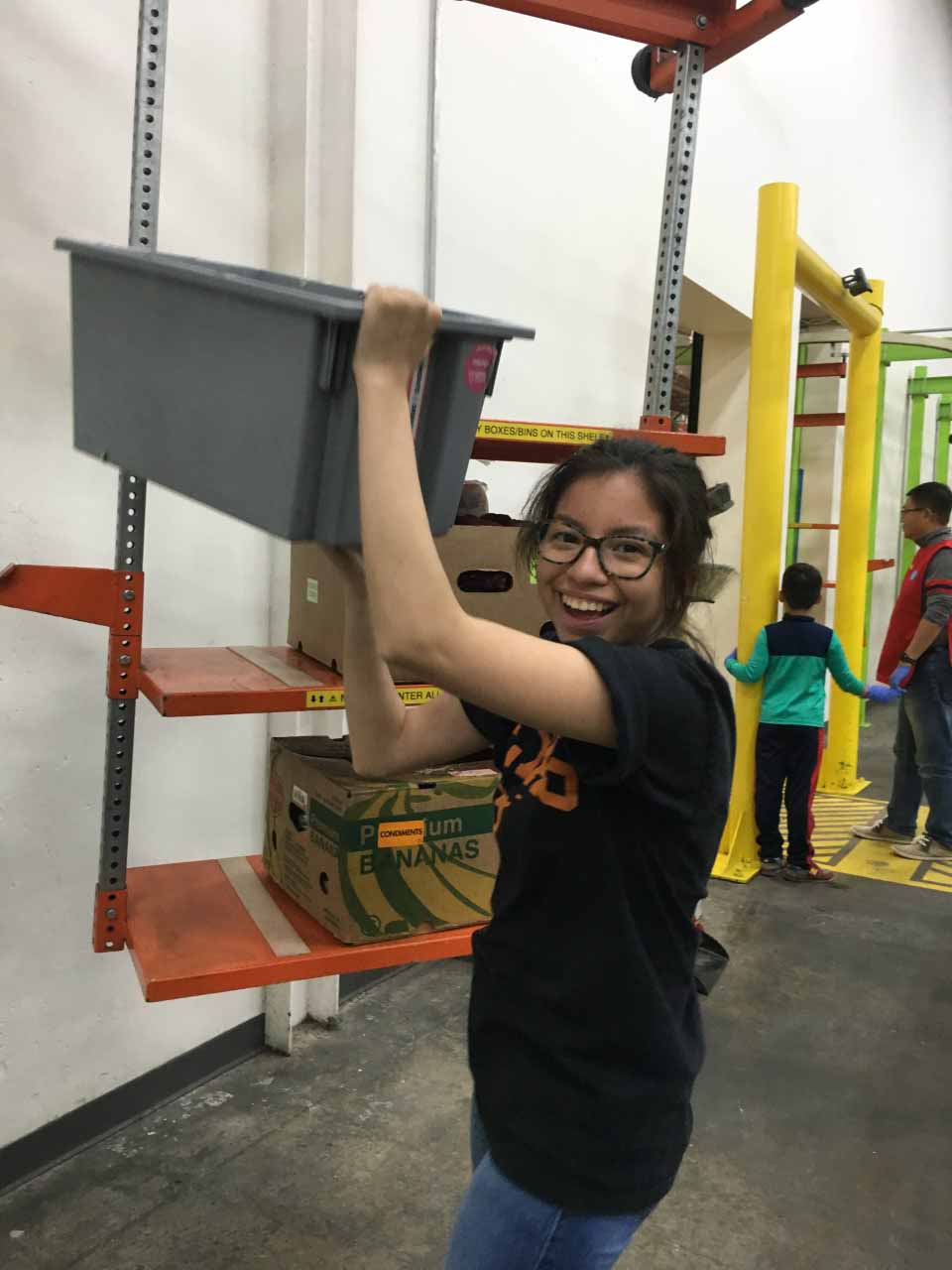 The Houston Food Bank works hard to feed our community on a daily basis.Last week, I had the privilege of working with the Food Bank to help meet the needs of our community. In only three hours, I was able to see first hand what it takes to give back to those in need. I helped sort out boxes and organized shelves to keep the Food Bank running smoothly. The work of my team and I was able to help the fight to prevent families from going hungry. It's amazing to see how a few hours of work can better affect the lives of thousands of people.
Emily Klavan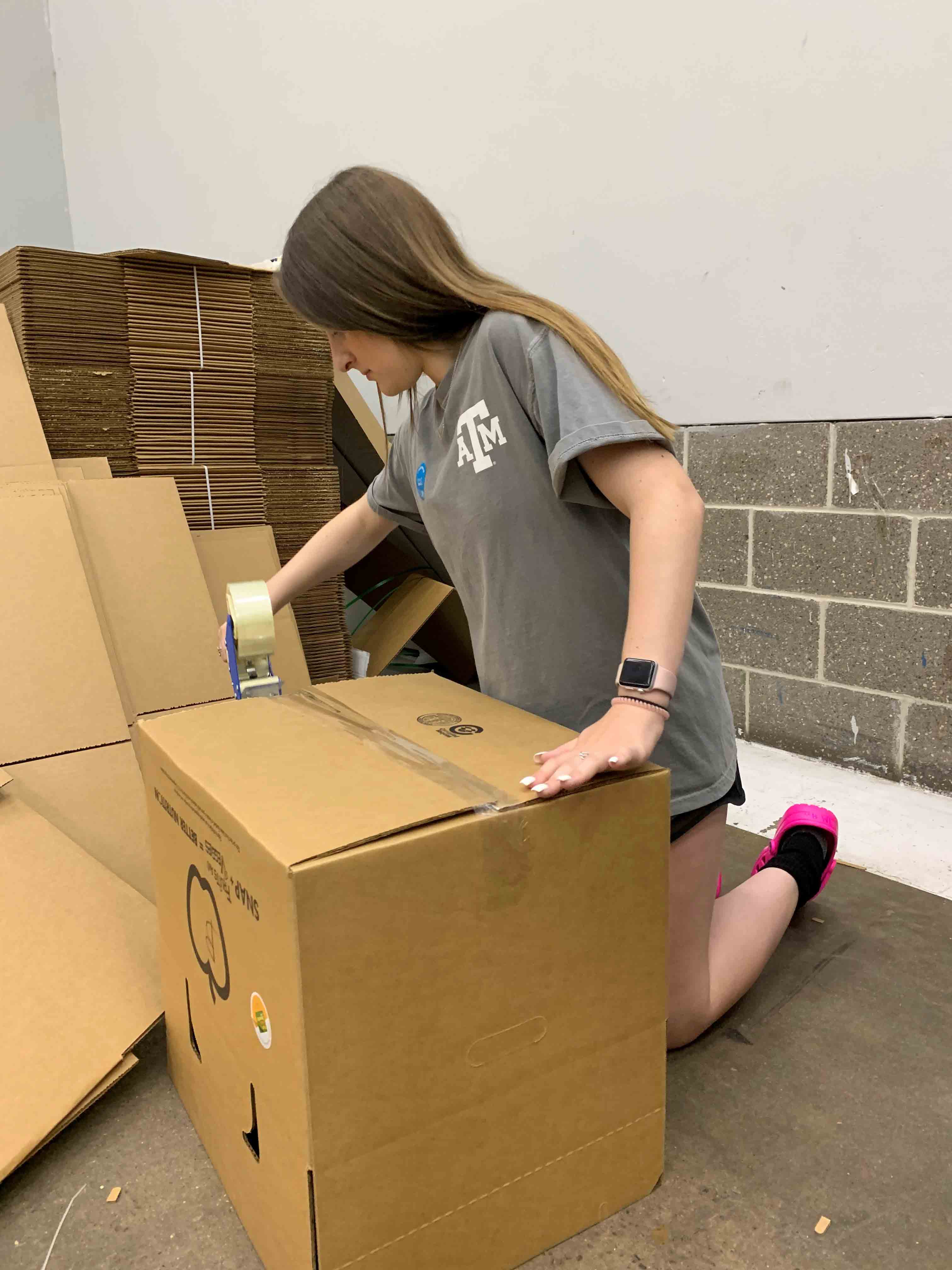 I'm so happy that I took the time to volunteer at the Houston Food Bank. It's so pleasing to know that just three hours of volunteering can help feed hundreds of people. I will definitely be back to spend time at the Houston Food Bank to continue to help feed those in need.