Varsity Track advances to Area Meet
Tompkins' Boys are the 2019 Track & Field District Champions for the first time in school history. The girls finished 4th. Students who placed in the top four are going to area. Juniors Ryan Little and Clayton Keys were the highest scoring male and female of the meet.
"My goal after high-pointing at districts is to make it to regionals," said Keys.
Keys claimed that he has been doing harder workouts and has been on a strict diet to prepare for area. Training hard is very important so that athletes can know what they are doing.
"I want to make a statement when I go to area," said Little.
Little trained very hard for districts and plans on training harder for area. Little knows that she is a good runner but also knows there can be room for improvement.
"Technique is very important to work on and use during districts and area," said Keys.
Keys practices every day for hours on his technique and his running to prepare for area. Technique is important so that athletes do not injure themselves while competing. Technique can also help runners get faster and score higher in different events.
"Going to area, I am using my time very wisely to practice to beat the competition," said Little.
Little used her bi-week, which is a week where there are no meets, to practice and work harder. She also incorporates harder workouts to get her muscles stronger. Little says she is not worried about her competition because she just focuses on herself and makes it her race.
"If I focus and work hard, I know I can make it to regionals," said Keys.
There will be a lot of competition at area but Keys feels confident that he can run his race and beat the competition to make it to regionals. Keys does everything to the best of his ability to ensure he has every chance to win and score high.
Besides Little and Keys, there are 13 other students including the JV boys and girls track. The JV boys and girls are also district champions. Area is today, April 18, 2019 at Paetow High School.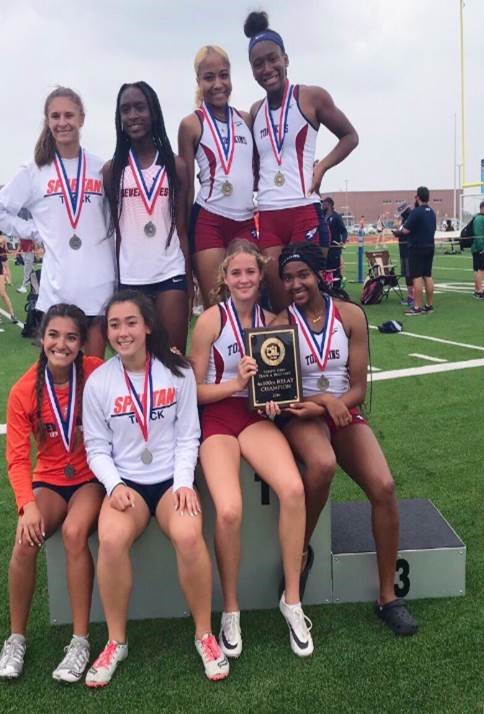 Here are those that scored by placing in the top 6:
3200m Run –      Cole Lindhorst – DISTRICT CHAMP, Justin Duffy – 2nd, Gavin Saacke – 3RD (ALL 3 ARE AREA QUAIFIERS), Hayden Gold – 3rd (AREA QUALIFIER), Grace Kohout – 5th, Lauren Titus – 6th
4×100 –                 DISTRICT CHAMPS Varsity Girls – Erriel McCalla, Marisa Richardson, Morgan Marshall, Ryan Little – AREA QUALIFIERS – JV Boys and JV Girls were DISTRICT CHAMPS, too!
800m Run –         Jake Wigginton – 6th, Marisa Marinchak – 5th
100H/110H –      Clayton Keys – DISTRICT CHAMP (AREA QUALIFIER), JC Acquin – 4th (AREA QUALIFIER), Lanaye Keys – 4th (AREA QUALIFIER)
100m Dash –       Taurean Muhammad – 2nd (AREA QUALIFIER), Brandon Jackson – 6th, Ryan Little (2nd), Morgan Marshall – 3rd (BOTH AREA QUALIFIERS), Tami Odusanya – 6th
4×200 –                 Boys – 3rd (AREA QUALIFIERS), Girls – 6th
400m Dash –       Jose Hernandez – 3rd (AREA QUALIFIER), Ryan Little – DISTRICT CHAMP, Natalie Martir – 4th (BOTH AREA QUALIFIERS)
300H –                  Clayton Keys – DISTRICT CHAMP (AREA QUALIFIER), Gabe Atkin – 5th
200m Dash –       Taurean Muhammad – 3rd (AREA QUALIFIER), Tami Odusanya – 6th
1600m Run –       Cole Lindhorst – DISTRICT CHAMP, Justin Duffy – 2nd (BOTH AREA QUALIFIERS), Hayden Gold – 3rd (AREA QUALIFIER), Lauren Titus – 5th
4×400 –                 Boys – 2nd, Girls – 3rd (BOTH MADE AREA)
Long Jump –       Clayton Keys – DISTRICT CHAMP (AREA), Jesse Jensen – 5th, Ryan Little – 3rd (AREA)
Triple Jump –      Clayton Keys – DISTRICT CHAMP (AREA), Addy Stevenson – 2nd (AREA)
High Jump –        Garrett Mack – 4th (AREA)
Discus –                 Adam Ikenberry – 4th (AREA), Zoe Shanklin – 2nd (AREA)
Shot Put –            Adam Ikenberry – 4th (AREA), Zoe Shanklin – 2nd (AREA), Loke Innocent 6th
Pole Vault –         Gabe Dagley – 3rd, Evan Dumond – 4th (BOTH AREA QUALIFIERS), Corbin Olson – 3rd (AREA)