DIY: Holiday Crafts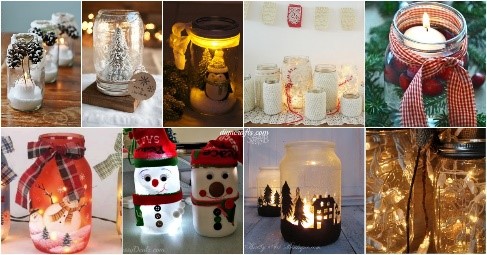 T'was the week before Christmas, when all through the home, there is nothing to do, not a craft to be seen. Play some Holiday tunes, get out your scissors and glue, here are a few craft ideas for you and your crew.
Paint Chip Christmas Garland:
Have some extra paint chips laying around? Put them to use and create an easy and fun Christmas garland to spice up your tree or room.
Here is what you will need:
Paint chips
A stencil (if needed)
Scissors
String
Stickers, designs of your choice
Super glue
First, cut out the shape you would like on your garland using your imagination or a stencil (avoid the words on the paint chip if possible). You can decorate with any decoration of your choosing such as beads, glitter, and stickers. Next, you will need to cut the string to the length of your liking and begin to place the paint chips in their desired spots. Once you place the chips in their spots, you can turn the paint chips to the back and super glue the string to the back. Once you are finished, you will have your DIY Christmas garland. You can hang it in your room or even around a tree.
Christmas snowman Ornaments:
Do you want to make your tree more creative? Decorate ornaments with your friends and family to animate your tree.
Here is what you will need:
Clear ornaments
Stickers (if desired)
Paint
A sock
Glitter (if desired)
String
First, decorate your ornament whether it be painted on the outside or filled with glitter or cotton on the inside. Then you can paint or stick on decorations to make the face on the snowman of the outside. After decorating the face, take a sock and cut it in half so that it is half on its original size. Once you cut the sock, you can position it of top on the ornament and fold the sleeve part so it looks like a little hat. Then you will need to tie the top on the sock with a string or rubber band to hold the hat together. Once you figure out how you want your hat to look, you can super glue it to your ornament. After applying the super glue to the hat and letting it dry, you have then made your very own DIY snowman ornament.
Mason Jar Christmas Lanterns:
It's the most wonderful time on the year, Get together with your friends or family and create beautiful Christmas lanterns. You can put them of a table, a mantle, or even gift them to someone.
Here is what you will need:
Mason jar
Candle
Paint (if needed)
Ribbon (if desired)
Super Glue (if needed)
Stickers, glitter, buttons (if desired)
First, paint or decorate your mason jar. Then, position your candle in the center of your mason jar and you can glue it. To decorate your mason jar, cut out a stencil, apply to the front, then paint it, you can also glue ribbon around it and make it pretty. Making Mason jar lanterns are fun and simple.
Snowflakes:
Create a "Walking in a winter wonderland" feeling by cutting out snowflakes and hanging them. Get together with your friends and family and turn paper into pretty snowflakes.
Here is what you will need:
Paper (colored or white)
Glitter, stickers, buttons (if desired)
String (if you wish to hang your snowflakes)
Making snowflakes can be fun and simple, but also complicated when your snowflake does not turn out the way you wished. Follow these steps to have your snowflakes come out perfect each time. Have you ever caught snowflakes of your mitten or glove and studied them up close? Each snowflake is different and unique.
First, you will need to fold your paper in half diagonally to make a triangle. Then, fold the triangle in half so the pointy corners meet, and in half again (fold triangle in thirds) and make sure each corner matches up. Then, cut the folded paper however you wish. After, unfold the paper gently and you will have your very own snowflake. You can decorate it with glitter, stickers, color it, or you can just leave it blank. If you wish, you can make a hole with a hole puncher and tie a string to it and hang it up.