Katy Becoming a Tourist Spot? Unique Places to Visit around Katy…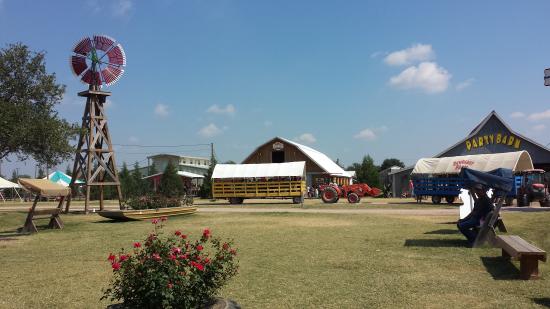 Typhoon Texas
Typhoon Texas, opened in 2016, offers fast rides and slow smokin' BBQ. The park was designed by two Texas A&M graduates who wanted a clean, Texas-friendly environment for Katyites to enjoy in the hot Houston sun.
555 South Katy Fort Bend Rd, Katy, TX 77494
https://www.typhoontexas.com/houston
Dewberry Farms
Go on an adventure as big as Texas… Loaded with 48 plus acres of attractions, 8 acres of cornfield to explore and heaps of southern comfort food. The public can pick fruits and veggies during harvesting seasons.
7705 Farm to Market 362, Brookshire, TX 77423
Splashway Campgrounds
A family-friendly waterpark with a wave pool, lazy river and slides. The on-site campgrounds are surrounded by walking, biking and hiking trails and lakes to catch fish, kayak or pedal boat.
5211 Main St, Sheridan, TX 77475
Houston Panic Room
A group of people and yourself are locked into a room and must answer a series of riddles and solve puzzles in order to escape the room and complete the 'mission.' There are three missions to choose from: the Zombie Apocalypse, Abandoned School Room and the Cabin Fever Room.
465, 1718 N Fry Rd, Katy, TX 77084
The Showboat Drive-In
Sit under the stars and watch two feature films for the price of one at this old-fashioned drive-in.
Operating since 2006, the Showboat Drive-In also includes a playground and restaurant. The family-owned drive-in prides itself in providing a great experience with bargain prices.
22422 Farm to Market 2920, Hockley, TX 77447
http://www.theshowboatdrivein.com/
Camping at Lone Star Jellystone
This Yogi Bear-themed campsite/resort is open to the public every weekend. The campsite includes multiple different attractions and amenities such as a lazy river, mini golf course, arcade games and children-themed activities.
34843 Betka Rd, Waller, TX 77484