FFA Wins Big at Katy ISD Livestock Show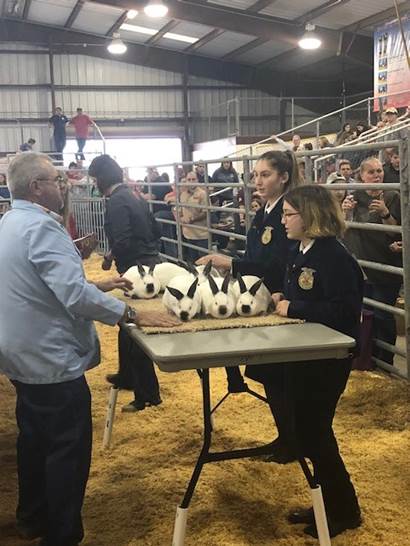 Students and various farm animals ranging from rabbits all the way to cattle fill the Katy Pavillion waiting to hear results. For hours, students have been proudly showing off their animals that they have raised. Some have raised them for weeks, while others have been with their animals for months. Sophomore Mia Sexton and senior Sarah Tisdel both won impressive awards at this February show.
"Although the KISD livestock show can be hectic, some of my most favorite memories have been spent in the L.D. Robinson Pavilion," said Tisdel.
Tisdel won Grand Champion in Steer Showmanship division. She had been raising her steer for almost a year; having her animal from May of 2017 to February of 2018. To be specific, a steer is an animal in the bovine cattle group. To show steer, one must present their animal in any way that impresses. At the show Tisdel had to walk her steer up to the judge and position them in a way to represent her specific animal. Tisdel regards the Katy ISD Livestock Show as her favorite week of the entire year.
"I was second in my steer's weight class and I was Grand Champion Showman which means I was able to present my steer the best and efficiently answer the judges questions," said Tisdel.
Sexton won Grand Champion in the Rabbits division; she had been raising her rabbits for about a month before the show.  At an FFA event, one obviously can not show rabbits in the same way that cattle are shown, so these small animals must be judged closely. Sexton explains that she brought her rabbits up to the judges and had them assessed. The judge picks them up, observes aspects of them that correspond to how they were raised and he weighs them. There is a 3-ounce range in which all of the rabbits should be in; Sexton's rabbits were in this bracket.
"They do not really calculate points at the show, but if all of the rabbits are in unison with the same weight, you have a good chance of winning," said Sexton.
The show took place on Wednesday, Feb. 14, at the Katy Pavilion, which is a Katy ISD event center that specializes in FFA events. About 60 Tompkins students competed, showing many different animals. There were chickens, rabbits, goats, lamb, pigs and steer. Some common misconceptions are construed about FFA; what they raise and what the program consists of. FFA students would like other Falcons to know that FFA is a great organization that specializes in many different activities.