Creativity is Key in Teaching Art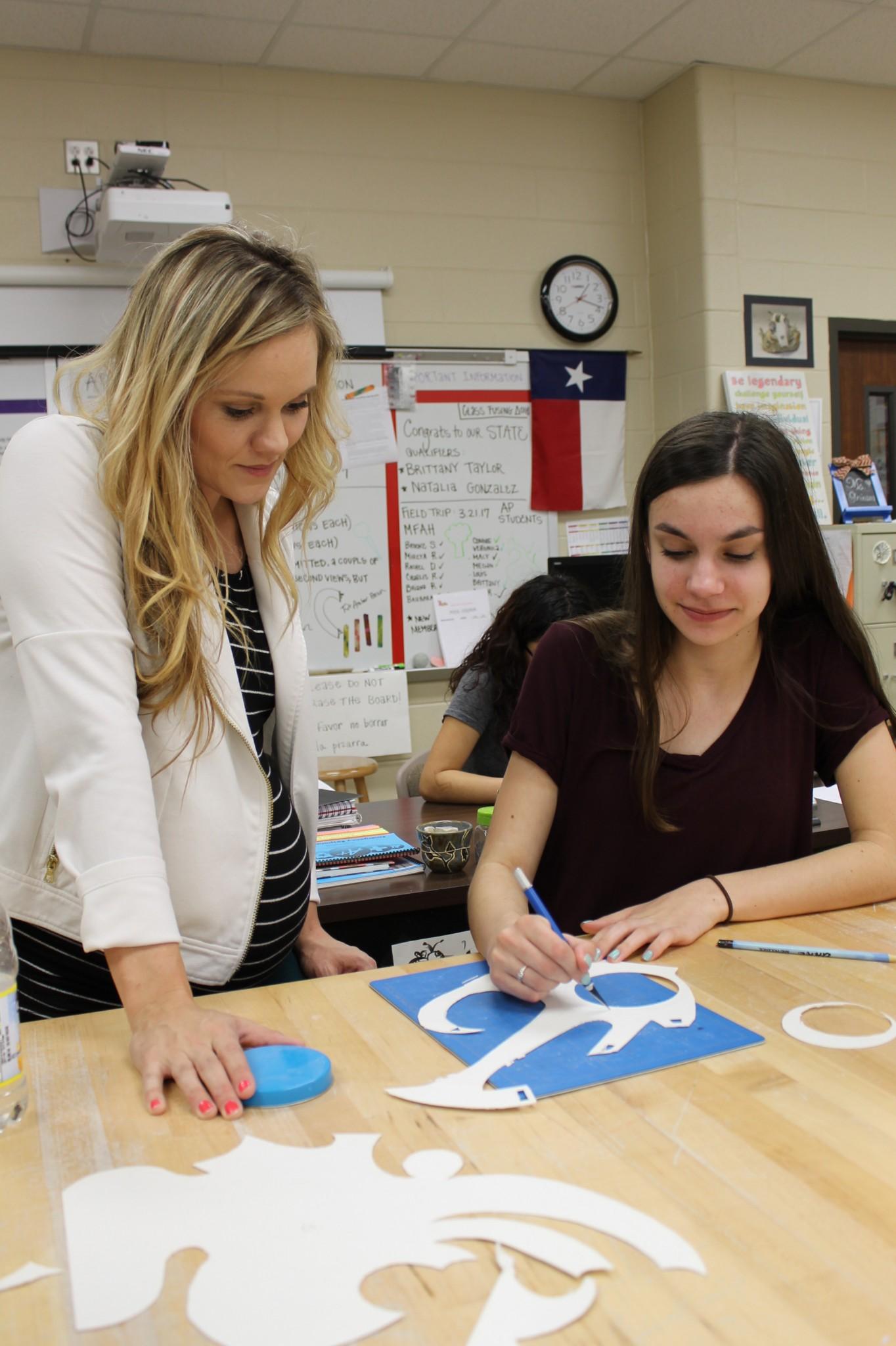 Art teacher McKenzie Grimm helps out freshman Abby Meehan with her artwork. PHOTO BY JEWEL PATANI
Art, by definition, is the expression or application of human creative skill and imagination, typically in a visual form such as painting or sculpture, producing works to be appreciated primarily for their beauty or emotional power. The benefits of art have been observed for years now, making art a standard class offered from elementary school all the way up to college level. In elementary school and junior high the classes are generally overviews of different kinds of art, but once students reach high school level there is more offered. Here, Art 1, Drawing I, II, III, Painting I, II, III, Ceramics I, II, III, Sculpture I, II, III, AP Studio, AP Design, AP 3D Studio, and AP Art History are offered. Throughout the country, colleges are created to further the artistic education of a student. Art teacher McKenzie Grimm was not someone who went to college knowing she wanted to become an art teacher.
"I've always loved making art and it's been one of my biggest passions since I was a little girl. However, I had zero intention of actually being an art teacher when beginning college. I really loved the architecture program at my university but due to many factors I didn't feel that it was something financially feasible for me, so I was encouraged to look into the art education program," said Grimm.
The artistic capability of students varies from stick figures to natural talent, but all people are given a creative outlet to do their best. Some of the students display raw talent, others have spent years practicing, but most have a combination of the two. It takes commitment to the betterment of oneself to continue to strive in such a competitive world. Junior Mya Stalnaker has been in art since sixth grade, and has always displayed a talent for it. Through years of pushing herself at competitions, like the annual rodeo art show, Stalnaker has only continued to improve her work.
"Art is a hobby of mine I've grown up to love and appreciate. I've worked with many different techniques and have learned a lot from basic trial and error," said Stalnaker.
Art gives students an outlet to project their experiences, emotions and ideas into. Many artists, like Vincent Van Gogh, utilized art to work through hard times in their life. Family problems, mental illness, strong stances on public issues are examples of things that students can pull creativity from. The ties someone has to what they are creating can greatly influence the effectiveness of the piece. With greater ties comes more creative ways to convey the message. Even something as small as making a piece black and white instead of in color or vice versa can add more to the meaning.
"I truly believe that art makes people use a part of their brain that they don't use often in other subjects. Students are given very little information at times and asked to figure out a lot on their own, come up with their own ideas, use inspiration for developing new things, and creatively think in ways that they may not normally think. They are also using tactile experiences through art as well as thought," said Grimm.