Librarian and Librarian Aide Q+A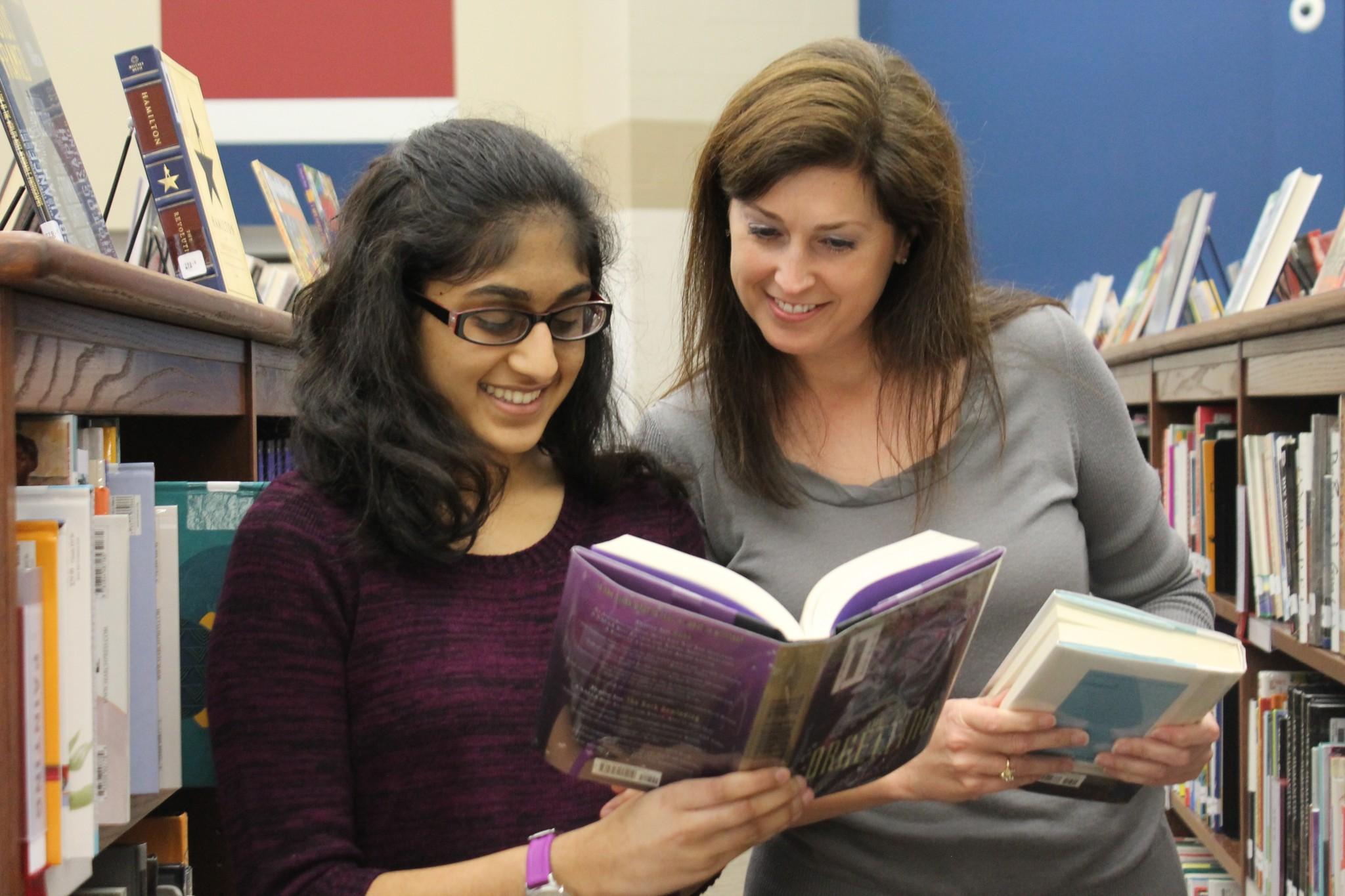 What is your favorite…
…novel?
Michelle Tuttle: My favorite novel is the young adult book All the Bright Places by Jennifer Niven.
Julie Scanlon: My favorite book is A Tale of Two Cities by Charles Dickens. It's just a great classic story about love, sacrifice and integrity.
…author?
M: I love John Green. I like the fact that his stories are contemporary. My other favorite is Neal Shusterman because he is a fantastic sci-fi writer. He writes these incredible stories that expand on questions and explore "what if" scenarios.
J:I have read a lot of Jodi Picoult novels. She's a great writer and storyteller, and she also presents a really controversial topic and ends her stories with unexpected twists.
…series?
M: Hands down… The Lunar Chronicles by Marissa Meyer.
J: Harry Potter by J.K. Rowling is one of the best series ever written.
M: I have to agree.
…part of your job?
J: I think reading is the best part of my job, and talking to the students about reading books.
M: I agree. The absolute best part of our job is when a book order comes in. We get so excited and giddy when we see all the huge boxes of new books to add to the library.  
J: There is nothing like the smell of a new book.
M: We actually take the books that we want to read and put them to the side to read them before the students.
How is…
…Tompkins library different from others?
M: Tompkins' students are unique and very passionate about reading. There are so many students who love to read and want to talk to us about books. We also have students who are interested in what the library has to offer whether that be playing chess or studying with groups of friends. We are the center of the school and the students use this library as such.
J: This is the first public high school library I have ever worked in. I had worked in a public library and a K-8 public school before coming to Tompkins, and our library seems to be very open, bright and welcoming whereas some schools' are not. Students like to come in here and hang out and there is a lot of students who just love to read.
M: We strive to create an atmosphere where anyone and everyone is welcome, and we read the library books so that we can talk about them with the students.
What novel(s)…
… do you regret reading?
M + J: It's a joint-decision…Grasshopper Jungle by Andrew Smith.
…recommend to any high school student?
M: I feel like every high school student should read 13 Reasons Why by Jay Asher. It's about a girl who commits suicide, and before she does she records 13 tapes that reveal a reason why she decided to commit suicide. It is an eye-opening story that makes you notice the little things you may say or do that affect others.  
J: I always like to recommend the Book Thief by Markus Zusak. It's very well-written, presented in an interesting way and touches on an era of history that a lot of kids gloss over.
…originally dislike, but came to enjoy or appreciate over time?
M: Well, it certainly isn't Grasshopper Jungle. Fates and Furies by Lauren Groff. It's not a young adult book, but it is told in two perspectives: the husbands' and wives'. I heard great things about the story and it was on the National Book Award List and received a lot of praise. As I read it, it was a hard read because it wasn't fast-paced. After I read it and reflected on the story, I came to appreciate it more and thought it was well-done.
J: I thought The Fault In Our Stars by John Green was a good book, but I didn't enjoy reading it. I read it twice, and enjoyed it much more on the second read.
…are you excited about coming out in 2017?
M: Everyone loves Veronica Roth, and her new book Carve the Mark is coming out this month. That is definitely a book that I am going to hurry up and read, because I know there is going to be a lot of excitement around it and many students wanting to talk to us about it.
J: Definitely, the third installment A Court of Wings and Ruin in the series A Court of Thorns and Roses by Sarah J Maas. I am very excited for its release in May.