Khalief Muhammed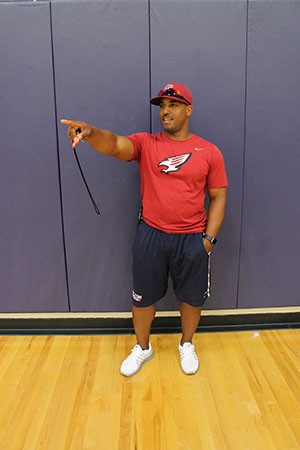 Picture a well-built man, coaching Physical Education all day and then, coming home after a long day only to bake the most delicious desserts. Although it is quite the interesting combination, this perfectly describes what coach Khalief Muhammed enjoys doing during his days.
"One fun fact about myself that people don't know is that I'm a baker. I love making cookies, brownies and all sorts of sweets. I'm not into cooking as much, just baking," said Muhammed.
A born and raised Houstonian, Muhammed attended Baylor University on a football scholarship and studied for a major in psychology. After spending a couple of years in Canada, Muhammed decided to return home to become a coach.
"I actually opened Seven Lakes and worked as a P.E. coach there for a while. I then saw an opportunity for myself at Tompkins High School and decided to come and help," Muhammed said.
Despite being a sports enthusiast, this coach does not follow a strict workout and diet regime like most athletes. Instead, Muhammed tries to stay active throughout his days as much as possible by going to the gym and staying on his feet whenever he can.
"I do workout, but mostly stay active by playing with the kids at school and participating in the sports during the class. However, I don't eat healthy at all," said Muhammed.
One thing Khalief Muhammed has learned over his experience as a coach is how to engage his students and teach them to enjoy physical activity. Showing care for the task is the best tip he has learned.
"You need to have the energy to engage the students. Get them excited and show your enthusiasm. You have to care and properly show it with energy," said Muhammed.