David Yeager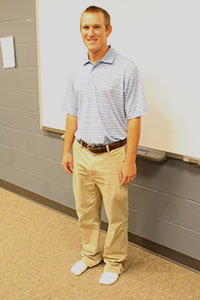 Standing on the green grass, David Yeager shouts out, urging his players on as the sun begins to dip. A clipboard clutched in his hand, a small grin slips onto his face as he notices the team mastering plays in preparation for the upcoming games. The players run it again, easing into their positions.Yeager teaches World History. After school he also participates in coaching football and track.
Before teaching here, he previously taught in Brenham, Texas, for six years. He has taught varying subjects from World History and U.S History to P.E. and Life Skills classes.
While in Brenham he was able to coach very successful athletes. He also coached his younger brother who participated in both track and football and made it to the semi-final game in NRG that year.
"Coaching my brother the year his team made it to the state championships is a very sweet memory to share with him," said Yeager.
Yeager also coached a young boy in pole vaulting. Yeager worked with him for five years, including junior high. Finally, the boy was rewarded with the winning of a state championship after a 15'6 jump.
Yeager attended college at Stephen F. Austin, where he was able to meet his wife through the organization of Younglife. Younglife is a Christian youth group that works with people through volunteering, staffing, and camps. Enjoying the outdoors is a great deal of what Yeager is involved in. He goes fishing, hunting and works with wood.
"There aren't many better ways to spend your evenings than in the water catching fish or in a deer blind," said Yeager.