Stuco Goes to District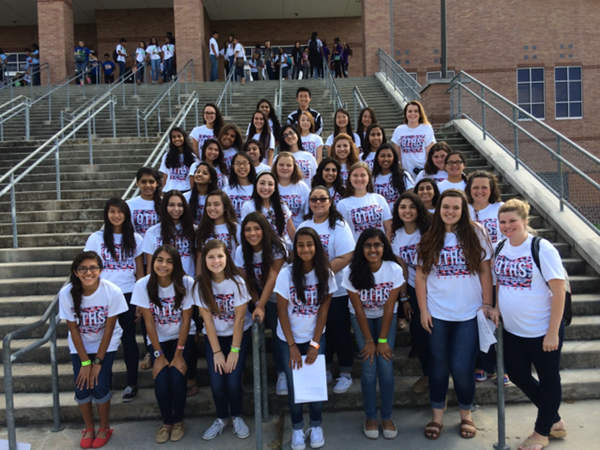 "With our hands up high and our feet down low, that's the way we wiggle-o! Wiggle-o, wig wiggle-o!" is chanted by of hundreds of students crammed into the field house at Hightower High School on Tuesday, Sept. 29. Tompkins' Student Council members took a bus trip to attend the first of three district meetings for the 2015 – 2016 academic school year.
"I was really looking forward to the meeting and hearing from a motivational speaker about how to better society like we typically do at district meetings," junior Gaby Torres said.
However, this meeting differed from ones of the past. Instead of council members of TASC District 13 listening to a motivational speaker, they partnered with Lunches of Love in hope to impact the lives of young students and motivate them with sweet notes written on their brown paper bags.
"It was really cool for the entire District 13 to come together to decorate bags for Lunches of Love and nice to know that a child would be receiving a healthy meal," senior Victoria Orellana said.
Also at the meeting, students participated in table talks where they learned about other projects done by student councils in District 13 to bring back to Tompkins. Several projects promoted pride and patriotism, community service, energy and environment and D.A.S.H (Drug Alcohol Safety Healthy Awarness) which contribute to requirements for an outstanding TASC state report for OTHS student council.
Student Council is excited for the many projects they have lined up for this school year. Their newest project is throwing Tootsie Rolls at pep rallies. The Tootsie Rolls which were made from recycled paper towel rolls were stuffed with candy and also a note strip which promoted the conservation of energy by informing students to turn the lights off when they aren't being used made for a great pride and patriotism and energy and environment project.
"This was a huge success and really got people into the pep rally," Torres said. "We've really been working hard to bring more school spirit to our campus and are brainstorming new projects similar to the Tootsie Rolls that will get students to interact and participate more in events like our pep rallies."
Other successful projects that student council is looking forward to doing again this year are the Heart of the Falcon and Luck of the Falcon competitions on Valentine's and St. Paddy's day.
Student council's upcoming district meetings are on Nov. 10 at Episcopal High School and Feb. 25 at George Ranch High School. The annual state convention will be held on April 10 – 12, 2016 in Arlington, Texas.