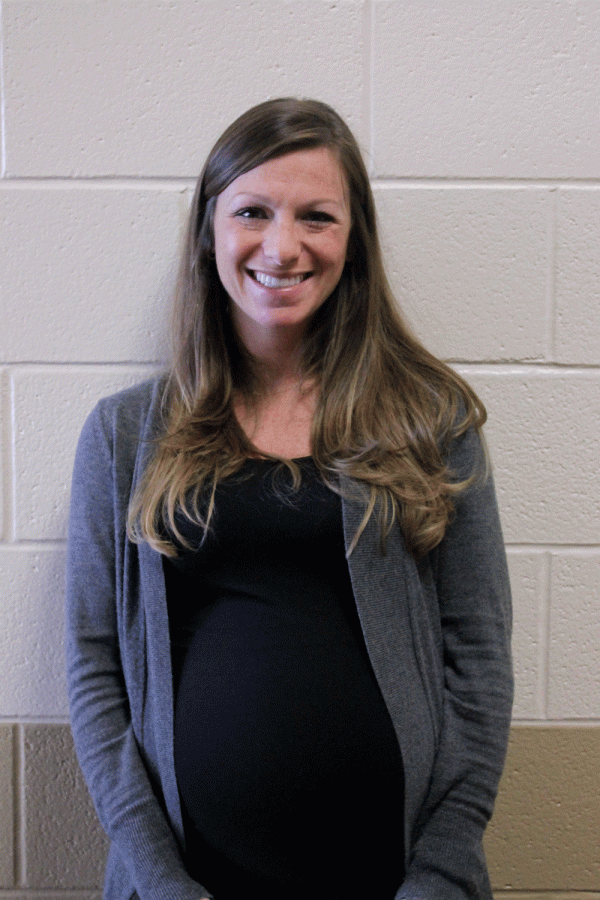 Brittney Newman
December 15, 2015
Sitting at her desk, grading the recently assigned quiz, a student walks in, requesting help on the given homework. Pausing her work, she meets the student at his desk and proceeds to guide him through the problems, making sure to thoroughly explain each step.  Despite her busy schedule as a math teacher, Brittney Newman, new Pre-Calculus teacher, always finds the time to assist her students in distress.
"The students are great, well-behaved and respectful. Most of them work really hard. It's a great atmosphere," Newman said.
Moving to a different school in a whole new state can be frightening. However, a welcoming environment can change the whole experience into an enjoyable one. From the start of the school year, Newman has been enjoying her teaching experience at Tompkins High School so far, despite being away from home.
"I love it. The administration is always very supportive, everyone's friendly. I really do love it here. My fellow teammates are always supportive and fun," Newman said.
When Newman was offered the position as a Pre-Cal teacher at Tompkins, the Illinois native saw it as the perfect opportunity to teach her favorite subject. Before becoming a high school teacher, Newman was a 4th grade, 5th grade, 7th grade and 8th grade math and science teacher. Having taught for years in different levels, Newman knows the best tips to succeed in the classroom that work every time, especially in advanced subjects that require a lot of work, like Pre-Cal.
"The best tip any teacher can tell a student is to do their homework. Also listen and pay attention in class; it really helps a lot," Newman said.
When she is not enjoying the outdoors or watching movies during her time outside of work, Newman spends her time trying to help out the community and spread goodness around her. Apart from owning three dogs, two of them which were rescued, she has traveled to third world countries to aid underdeveloped schools for young children.
"Two years ago I went on a mission trip to Jamaica with the school I had previously been working at.  It was a lot of manual labor, we brought buckets of water and cement up a ladder to create the roof of a church.  We also visited children and adult orphanages of special needs children.  There were so many of them whose family had abandoned them.  It made me really appreciate what I have and how much others need love, money, or time to donate," Newman said.
With her first child on its way, Newman is growing both at home, with the expansion of her family, and at work as her experience with teaching improves.
"You definitely grow a little more each year.  Just as you mature more as you get older, you mature more as a teacher.  You also learn to become more compassionate for the students whether is be the living conditions that they come from, personal problems or how they learn," Newman said.