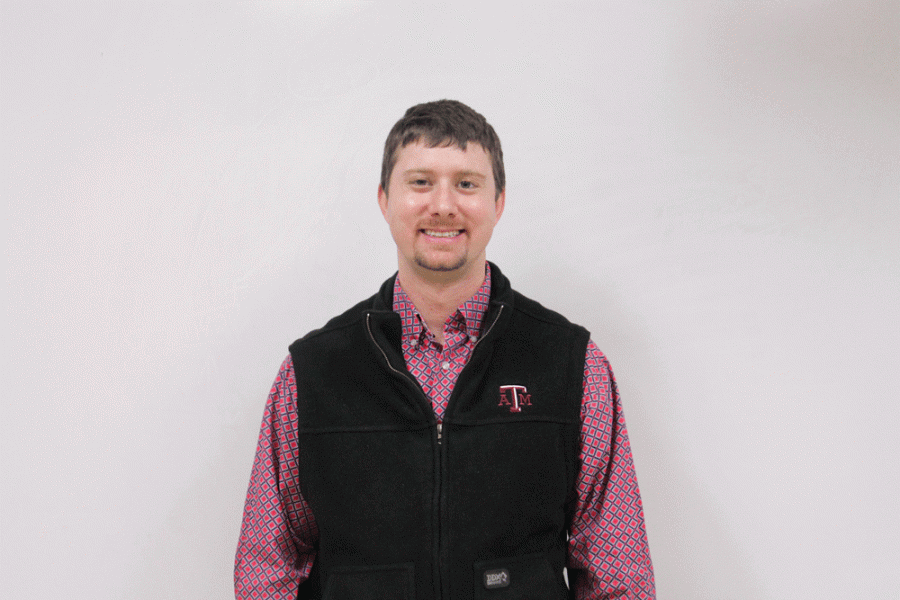 Michael Watson
December 14, 2015
Various noises fill the barn, a combination of bleats, purrs and hums as the sun dips to just above the horizon. A pungent odor striking through the air resembling manure, mixing with slight sweat from the heat and work. Michael Watson, an agriculture teacher, works as the sun sets, serving as an FFA advisor.
"I taught agriculture at Sam Houston and loved every minute of teaching while I was there. I chose the Ag position at Tompkins, because, of the ISD and the legacy they have made for themselves in the world of agriculture. Plus, the wonderful staff that was here made me feel very welcome to the school during my interview process," Watson said.
Although it is only his first year teaching at Tompkins, Watson has become deeply involved in the school and works hard both during school and after.
"I usually work till 8 at night because not only am I a teacher preparing for classes, but I am also an FFA advisor. I know it's a part of the job and what it takes to be successful, so it doesn't bother me much," Watson said.
For FFA, Watson must plan upcoming meetings, participate in team practices, and check up on the animals residing in the school barns as well as planning lessons for his classes. These things fill up his week as they must be attended to on a regular basis.
"I love that each animal has their own personality. No matter if it is a steer, goat, lamb, or pig, you can always tell when they are happy, sad, hungry, just as every other human being. When you get around and understand these animals and understand their personality as they become more of a friend than just an animal," Watson said.
Watson has always taught as an agriculture teacher, first teaching one year as an Intern Professor at Sam Houston State University then moving into his current position at Tompkins. He received his Master's Degree at Sam Houston State University, and his Bachelor's Degree at A&M University.
"I love spending time with my kids, for them to do so well, it makes it all worth it. Not just for me, but for them as well," Watson said.
Watson is an active teacher that likewise plays a very active role in the students surrounding him, coming into contact with them both in school and out of school due to FFA. He influences them positively, working with a lively attitude.
"I prod my students and push them to their limits, for them to understand that there will always be difficult events that they may face in their life and we have to push ourselves out of our comfort zone to realize the potential that we have as an individual. Once they have made that step to understanding, they can accomplish anything that they put their mind to," Watson said. "I encourage them to never stop believing in what they want to do in everyday life and never let anyone tell them otherwise."