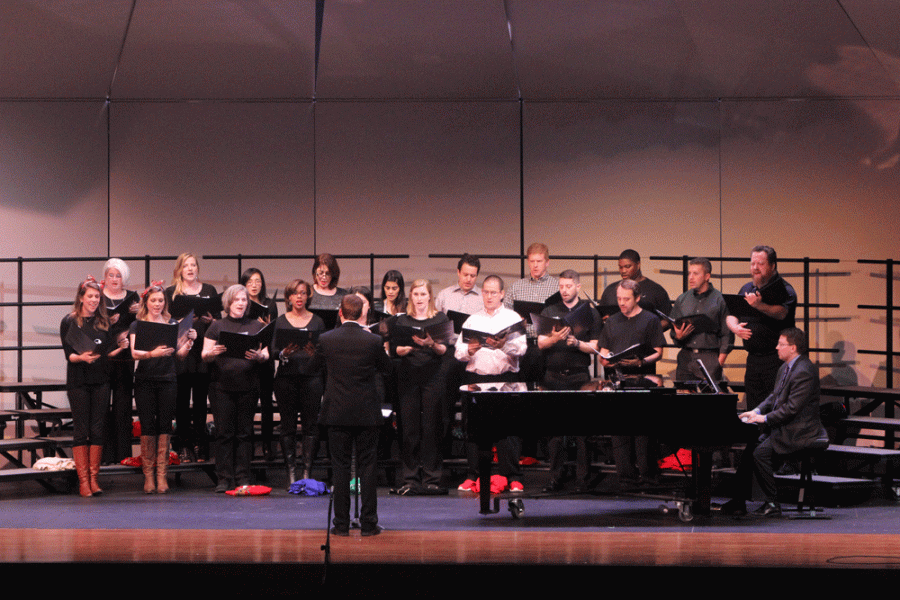 Tompkins' Faculty Shines at Choir Holiday Show
December 14, 2015
The stage lights shine on the Tompkins Faculty Choir who eagerly prepare themselves to dance, harmonize and sing to holiday jingles. Binders of sheet music open, nerves relax and the accompanist starts twirling away on the piano keys. The diverse group of teachers and administrators sing two holiday songs, adorned with choreography and tacky sweaters in front of 600 eyes. With few practices, the choir pulls a roaring applause from the crowd and successfully sprinkles some holiday spirit in the air.
"I was working on the Fudge Lab with my seventh period class when Mr. Grisdale swooped in and asked me to join the Faculty Choir. I was reluctant at first, because I already missed the first two practices, but my class convinced me to join," Chemistry teacher and Science Department Head, Jason Crump said.
Tompkins principal, Mark Grisdale, carefully recruited teachers from Tompkins vast faculty to form the Faculty Choir over a course of two weeks. The 19 recruits consisted of teachers from all subjects and administrators. Choir teacher Austin Hart held practices on Nov. 3 and 4 to prepare the faculty for their concert.
"When I showed up to practice, there were much higher expectations than I expected. Everyone was extremely focused and wanted to impress at the concert," Crump said.
Hart and the choir practiced sheet music for My Christmas Sweater and O Come All Ye Faithful. For a couple hours, they worked on tuning and harmonization until a smooth melody and strong sound came into formation. Faculty that joined late had to practice and review sheet music in their free time.
"Hart emailed me the songs, and I sang along with them in the car. I even practiced in the shower," Crump said.
The faculty was dedicated to the music and wanted to spread cheer in the community. The choir performed at Tompkins Choir Holiday Show on Monday, Dec. 7, along with the Tompkins' women and men chorales. The effort the choir put into the concert was noticed and praised by the audience.
"It was fun because I was able to interact with faculty that I don't usually see," Crump said.