Eva Darensbourg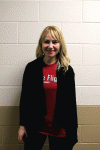 "As myliu Biologija," says Lithuania native Eva Darensbourg. (English translation: I love Biology.)
Darensbourg was shocked when she accidentally fell in love with the science of Biology while working towards her Business/Finance degree. Darensbourg received her Bachelor's degree in Business at the University of New Orleans and graduated Magna Cum Laude. She then continued her education in Biology at Mississippi State University.
"I was totally fascinated with it. In fact, I later went on and earned my Master's in Biology," Darensbourg said.
Darensbourg hopes for her students to be inspired to try new things and be open-minded like herself because she believes they never know what they may find.
Darensbourg has a massive amount of love for the subject and enjoys having the opportunity to share her enthusiasm about Biology with her students. She can have infinite conversations about topics in Biology and believes the subject of life applies to everyone.
"I chose to teach it so I could share the knowledge and passion for science with my students," Darensbourg said.
Currently pursuing her ninth year in education, Darensbourg taught English as a foreign language in her homeland Lithuania for one year before moving to the US. She then went on teach seven years of Biology at Clements High School in Fort Bend ISD and then finally landed at Tompkins to continue her eighth year in Biology and ninth year of teaching overall.
"Students at both Clements and Tompkins are very motivated, eager to learn, very warm, and good-natured," Darensbourg said. "I consider myself very blessed to have taught at Clements and to now be teaching here at Tompkins."