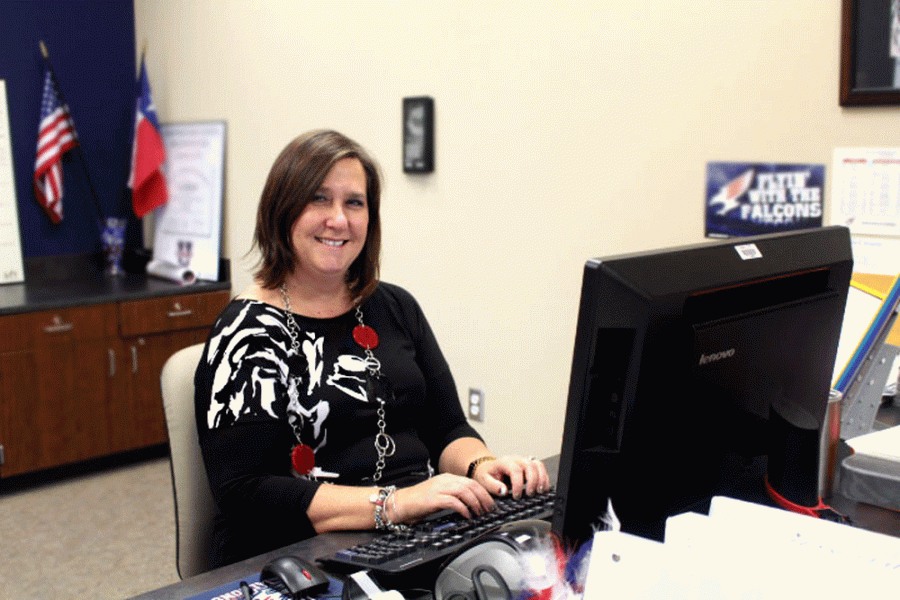 Marcey Connell
November 12, 2015
Previously employed as a restaurant server, lunch lady, legal secretary and now Tompkins' new receptionist, Marcey Connell has a wide range of jobs to put on her resume.
"As soon as school ended on that half-day in Tennessee, we hopped in the car and drove to our new house in Katy," Connell said.
This is Connell's first time at the front desk of a school; she gained her experience as a receptionist at several law firms.
"It's different because you're dealing with all age levels," Connell said. "You have students that you're dealing with, you have parents that you're dealing with. Of course the confidentiality is the same, but here there are many more rules and regulations that you have to make sure you're absolutely following, especially when dealing with parents and students."
After settling down to have her son Alex who is currently a junior at Tompkins and 7th grade daughter Eliza, Connell wished to return to the school system and worked as a lunch lady for seven years while living in Tennessee. Previously residing in Maryland, Mississippi and Tennessee, Connell's family decided to move even further south to Texas.
On weekends Connell and her family spend a lot of time exploring the city of Houston. When she is not checking out her new hometown, Connell enjoys watching reality TV. Some of her favorites are "So You Think You Can Dance," "The Bachelor" and "The Bachelorette." Connell also has a love-hate relationship with road biking, but still attempts it weekly.