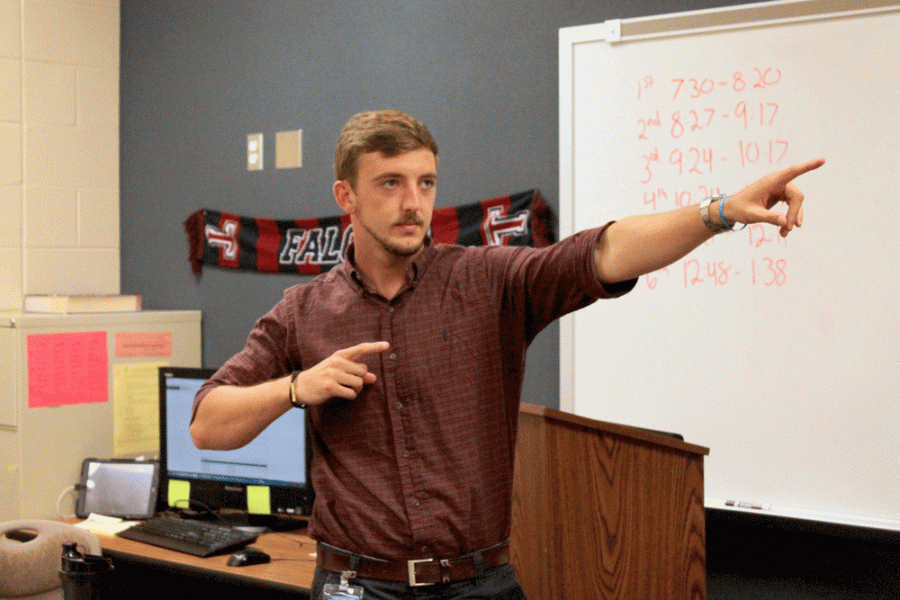 Austin Bridger – Reading is the Goal
November 12, 2015
Maybe it was his love for soccer that made his decision so easy. Coaching soccer was one of the best things that had ever happened to him and as he saw each and every one of those girls running in the field he vowed to himself that he, along with coach Jarrett Shipman, would lead them to state and be the best team Katy ISD has.
Austin Bridger is one of the new coaches Tompkins acquired this year. Along with coaching, Bridger has a passion for teaching English. Having played soccer his whole life, Bridger recently decided to make his way from Kingswood, Texas, all the way to Katy to start his teaching career at Tompkins High School.
"Coaching soccer was a no brainer for me. I played soccer all of my life and always loved it. I have such a passion for the game, it seemed silly to go every day without it. Life is a lot better if you do what you love, and I love soccer. Easy as that," said Bridger.
Bridger's love for reading lead him to the fascinating world of teaching English . This is his first year teaching English, but Bridger student taught at Denison High School in Denison, Texas. Bridger hopes to inspire students with his love of reading and wants to inspire them to develop that same passion he has
"I love reading fictional stories. Literature has the ability to transport the reader to a different world, which is amazing. Literature also provides insight to humanity's inner workings that we don't often notice until a great author shares those discoveries with his readers. I find it absolutely fascinating," said Bridger. "Teaching English is great because I can share something I truly enjoy with my students."
When he is not teaching, Bridger likes to work out, play with his dog, hike, watch soccer games and spend time with his friends. While he  loves to spend time in the city Houston, Bridger often finds himself missing the outdoors which includes the woods and the lake.