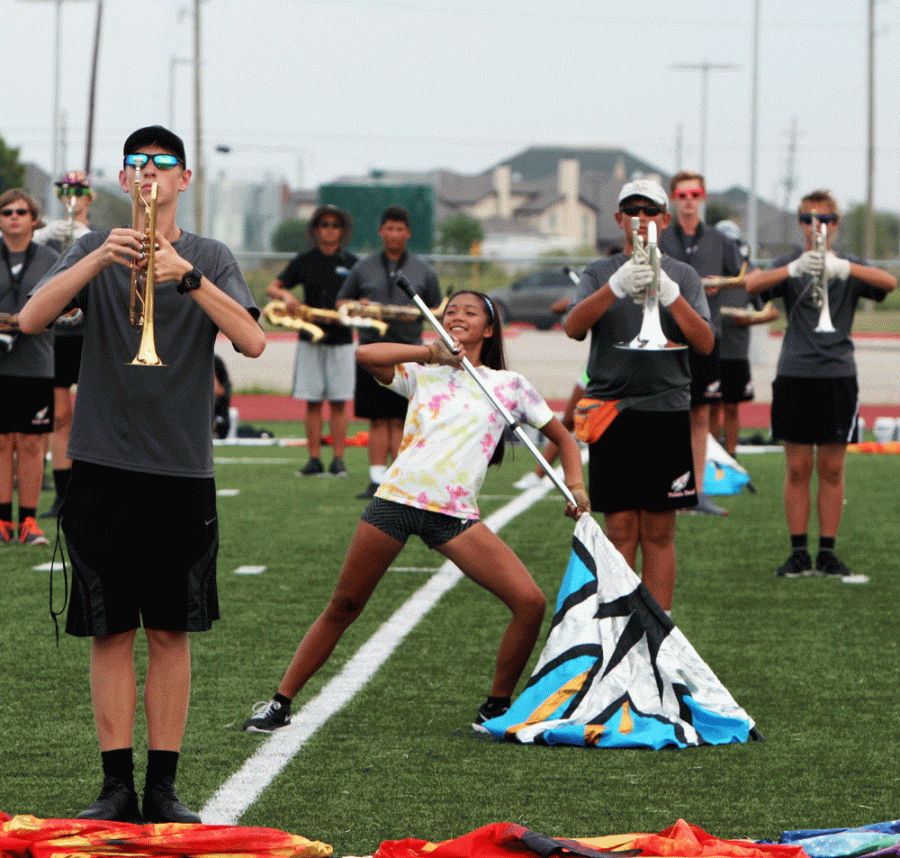 The Guard Team
From the stands people can often spot a group in matching costumes spinning flags and rifles during a halftime performance, but what many people do not realize is what exactly those performers are called. Nickolas Vizza has the joy of coaching Tompkins' 43 guard girls this school year and continues to push them to be the greatest they can be. The guard has two seasons, the Colorguard season which finishes in November and the Winterguard season which starts in January. Guard captain,junior Sharla Cimbak has been working hard this season to improve the guard's skills and make them the best guard team they can be.
"Vizza is constantly telling us how good we are and how when we slack off there's really no point in trying anymore," said Cimbak. "He gives us constructive criticism and constantly tells us that when we put in our best effort, we look amazing and we really are good."
To help stay motivated for their shows, guard rehearses nearly everyday. This team puts in a lot of time and hard work to be the best they can be. Captains, junior Lauren Lash and Cimbak like to send out motivational texts  to remind the team of the importance of each rehearsal. They try to make guard a fun place for the member. Even if the guard has issues they can push through and work on improving as a team.
"I look forward to exploring new things in guard and trying to do harder choreography and tosses," said Cimbak.
On Oct. 17, 2015, Colorguard was titled with Best Auxiliary in the Lonestar Preview Marching Contest and has continued to grow as they joined the band in the state competition this past week. Last year the junior varsity and varsity teams did well during Winterguard season despite the teams having all new guard members. Since guard consists of plenty of physical activity, such as how to spin and toss flags, rifles and sabers, guard is offered as a P.E. credit along with Fine Arts due to its involvement in band.
"I think if anyone is interested in guard they should definitely try out," said Cimbak.
Guard auditions will begin this week, so the majority of the week will be dedicated to teaching future members what guard is all about and the end of the week will conclude with an audition. Both boys and girls are welcome to come out to the audition process. The Winterguard season is approaching and for the current members it is exciting to see what they will be able to achieve.