Movie Review: Hotel Transylvania 2
October 21, 2015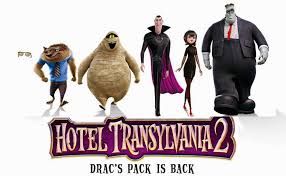 If you are in the mood for a spooky movie without the fright, then the choices are limited; from bloody and gruesome movies to unnatural and haunted adventures. Finding the perfect kid-friendly Halloween themed movie is not easy. However, the newly released Hotel Transylvania 2 may fit the bill.
Directed by Genndy Tartakovsky, the long-awaited sequel features again the main stars from the first movie, such as Adam Sandler as Dracula, Selena Gomez as Mavis, Andy Samberg as Johnny, as well as Kevin James, Steve Buscemi and Keegan-Michael Key as other important characters.
The second movie quickly follows up on the events of the first movie, with the wedding of Mavis and Johnny and the birth of their child, Dennis. Modifications have also been made to the hotel's policies with the welcoming of humans into the building. As soon as his grandson is born, Dracula expects him to possess the characteristics of a vampire. However, as his fifth birthday is approaching, Dennis still has not shown his vampire qualities. Mavis is also considering moving away for the safety of her child. And so it is with desperate and sometimes dangerous actions that Dracula and his closest friends attempt to scare Dennis's fangs out of him.
While the movie is not the most action filled, the plot is properly balanced with the right amount of humor and comedy to fill up the uneventful scenes. The characters are all lovable and charming, with their own qualities that bring a unique touch to the movie.
The score was written by Mark Mothersbaurg and the trailer's official song, "I'm in Love with a Monster" was recorded by girl group Fifth Harmony and was also played throughout the movie.
While the sequel does not contain the same level of action and comedy as the first one, it did do pretty well in the box office. It is a simple and fun family movie to enjoy as a mean to fill up boring time and get in the spirit of Halloween.
Rate: 3.5 stars out of 5