Students Team up with Superintendent to Tackle Important Topics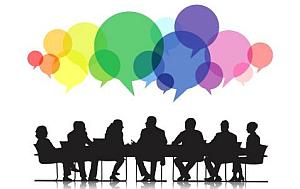 The roundtable gathers once again to start their new year. There are old and new faces around the room. Superintendent Kenneth Gregorski walks in the room and greets everyone with a warm smile. The classroom is filled with class presidents from different schools and they cannot wait to share their ideas with the superintendent.
"The roundtable is a place where all of the students can express their opinions and share their views," said Dr.Andrea Grooms, Chief Communications Officer.
The Superintendent's Roundtable is a discussion held every six weeks with class presidents and a few select students who get the chance to share their ideas with Gregorski. They discuss ideas like school bonds, academic calendars and the curriculum in general. They get to talk amongst each other and think of things they can do to better the district and improve their schools. Gregorski listens to all the students and takes into consideration what each says.
"Many class presidents from schools throughout Katy ISD meet to make vital decisions for the district as a group," said Grooms.
The selected members look forward to this meeting and do lots to prepare in between each meeting. They get together with the Student Council and think of ideas they can present at the roundtable.
" What they do in the meetings is they get together and discuss different topics and how we can make them better to benefit our schools," said Grooms.
The students get to discuss important topics about problems and what they can do to solve those problems. This also helps their problem solving skills and can help the students in the real world. Because their decisions can affect so many people, only select achievers get to attend and share their ideas at the meetings.
"The members chosen have to be fit for the role and have to be confident in their ideas so we like to keep the number of members limited, but many people are welcome to come and listen," said Grooms.
There are eight students from Tompkins that have been selected to go to these discussions. These include class presidents, editors, AP and principal picks. The students are freshman Caleb Sparks, sophomore Harrison Doyle, sophomore Sam Lu, junior Samantha Nowalski, senior Mia Hill, senior Caroline Hoffman, senior Hayden Burke, and senior Nicole Ruopp.
"Last meeting the superintendent came and talked to us about safety and the Speak Up app and we discussed how it has helped our school, it's a good experience and I'm glad that I'm a part of it," said Hoffman.
Hoffman feels like these discussions are important and can help the superintendent make important decisions. The students enjoy going to these discussions and inputting their own ideas and hearing the different points of views from different schools. They help Gregorski to collect information from students first hand.